Latest Event Updates
I had really stopped making Micah posts, because they had just become so dumb. Even though Micah FINALLY finished his "response to Zoe Quinn misquoting me" it was pretty much what I expected it to be. Micah was hardly misquoted, as he wasn't quoted. The Zoe Quinn article used an image TechRaptor had used as a header to one of his articles to show how TR latched onto #GamerGate for views. You can read my response or his response or both.
Going to that article actually reminded me of something. That somehow Micah thought THIS was an appropriate header for anything, really, let alone for an article which was supposed to be about ethics.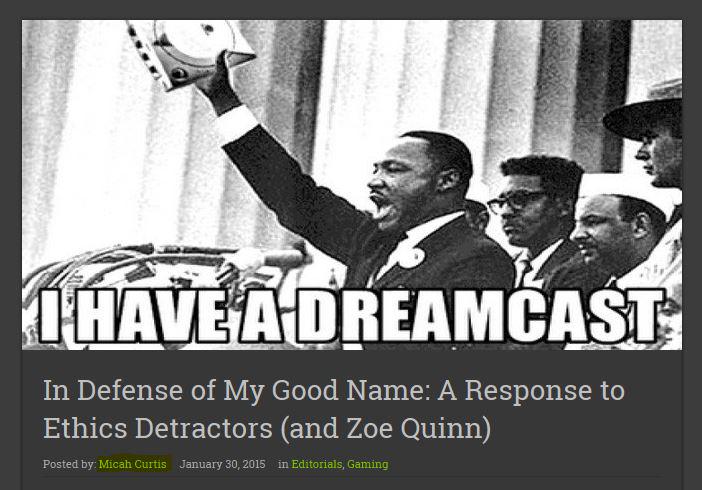 Don't worry though, Micah has a black sister so he can't be racist. Clearly no racist has ever actually had a relative or friend of that race and still been a racist fuck. My friend Mike had a pretty good response to this:
@webbard Kind of working against his own point going over the top like that. I suppose he couldn't find a pic of Jesus before the Sanhedrin

— Mike B (@nightflyblog) February 5, 2015
Speaking of racism…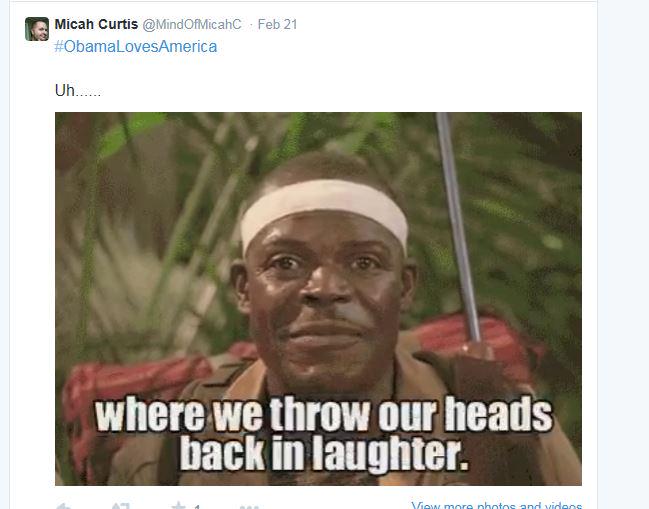 The idea that the President of the United States might actually hate America is so absurd, I have no words for it. Now I might have hated George W Bush with a burning passion, but I never would have thought he hated America. Now Black People, he probably did hate. Sort of meandering here, but I wanted to point out that in his response to Zoe's article, Micah claims not to be a part of #GamerGate. Sure he hates the same people, takes the same stances as them on just about everything, but he's not a member of GamerGate. Just like your one cousin who votes straight Republican, agrees with everything Republicans do, but he's a Libertarian anytime politics get brought up. Don't blame him for what the GOP is screwing up. So let's get to Micah and Marxism, because why not?  
Bob Chipman is a dolt. Call of Duty isn't a "right wing" game. Half of the series is about military corruption and how crappy war is. — Micah Curtis (@MindOfMicahC) February 21, 2015

For those not "in the know" Bob Chipman is MovieBob who used to be on the escapist. Just like most of the Youtube celebs (like Spoony, TGWTG, and others) his stuff is awful so I've never watched it. But it's not surprising that someone might consider the Call of Duty games right wing. You shoot thousands of faceless, nameless adversaries who tend to be minorities in the USA.
Since I haven't played CoD since the first two. I decided to take a look at who the enemy side was for the last 3 CoDs. CoD Ghosts involves an alternate timeline in which the Middle East takes a few nuclear bombs, so the enemies are South Americans who control oil production now. CoD Black Ops involved the USSR and related Soviet States (Hong Kong, Cuba, Laos, South Vietnam). Black Ops 2's plot summary on Wikipedia actually confused me. But it seems like the big baddies is a South American drug lord. So make of that what you will.
Here's the thing about Bob Chipman and other "progressives." They have no clue what they're fighting for or how to do it.

— Micah Curtis (@MindOfMicahC) February 21, 2015
Come on man, we gotta get organized. We "progressives" (Why is that even in quotes?) don't know what we're fighting for or how we're fighting for it. I mean that sounds pretty damning. If Micah wasn't completely out of touch with reality. Pretty sure most "progressives" are fighting for equality. You know, the whole "All men are created equal" thingamabob. It's being done as a mass movement through protests (Occupy, Ferguson Protests, etc… etc…) and via online to spread the word.  
The modern "Progressive" comes from a college background where they were taught that America is teh evil and must be "radically changed." — Micah Curtis (@MindOfMicahC) February 21, 2015

Not just any evil, but teh evil. America probably does need to be radically changed. We have a military industrial complex which is running wildly out of control. Just as an example, women make up over 51% of the country, but only 20% of the representatives in Congress are women.
Even worse is that minorities only make up 18% of representatives. The Supreme Court has 9 judges, of which 6 are old white guys. If you look at the current voting rights in the United States, most of the founding fathers would be outraged. The Constitution was originally written given voting rights to just those wealthy landowners. Black people were also 3/5ths of a person. But there's no need for "radical changes"
So, progressives will bully and lie for their "glorious change" which is ultimately a regression to Marxism.

— Micah Curtis (@MindOfMicahC) February 21, 2015
Marxism, I do not think this word means what you think it means. Everything that's liberal is Marxism to Micah. Hell to Micah anything he dislikes is Marxism. It's almost as though he's a relic from the cold war and everything is done by the Soviets. Also how does the United States "regress" to Marxism? Was there a period in time in which we were a Marxist state? I would have loved to live in those times. Look, people bash the Soviet Union, but it's not like Russia since becoming a democracy has become a land of milk and honey. It would be amazing if a nation as rich in natural resources as the United States became Marxist. There would be no more poverty, no more struggling to survive. Social services would be fully paid for by the state. The state would simply take the mega fortunes acquired by the 1% and spread it around to everyone. Sigh, if only.  
We've seen it quite a bit. Ben Kuchera, Chris Plante, John Walker and others constantly lie and bully people to get their way. "Progressive" — Micah Curtis (@MindOfMicahC) February 21, 2015
I don't know who any of these people are. Well I lie, I know Ben Kuchera is a video game journalist cause Micah screams about him enough. But who cares about the political views of a video game journalist? Ironically that could be used to make fun of me for mocking Micah. But Micah does more then just video games.
Does anyone else find it ironic that someone who for a while was a part of #GamerGate is calling progressives bullies? I mean GamerGate has spent the last how ever many months attacking Zoe Quinn, Brianna Wu and others. So hey, Micah's being a hypocrite again, nothing new really.
Thing is, this all started years ago when you look at history. Marxists in the 60's and 70's taught many of today's "progressives."

— Micah Curtis (@MindOfMicahC) February 21, 2015
So I was curious. Are any of the three people Micah named even old enough to have attended college in the 60s and 70s? Let's just say someone spent the last 4 years in college from 78-82, graduating at 23. That would make them 54 today. While Kuchera MIGHT be that old, Plante is clearly in his mid 30s at most and Walker looks to be early 40s at worst. Clearly progressiveness is a poison which was born in the 60s and 70s. At no other time in history did people try to help their fellow man rise up. Clearly the Muckrakers who pointed out urban poverty, corrupt political machines and the general misery of being alive at the time were Marxists. They also hated America. Or you know, all those Unions that fought for many of the rights we have as workers today. They were clearly Marxists who hated America. The free market should decide whether or not young children are profitable workers. The free market should decide whether workers  should be shoved down mines in horrible conditions facing near death situations and no safety. Free Market should decide whether our meat is inspected or not.  
They taught revisionist history, where Stalin or Che were great revolutionaries, as opposed to cold blooded psychopaths. "Progressive." — Micah Curtis (@MindOfMicahC) February 21, 2015
As much as I have followed and studied Soviet history, I have seen very few people with active praise for Stalin. Very few people would call Stalin a "revolutionary" as he largely worked his way up the ranks in the Bolsheviks by robbing money to support the party. There are people who still favor Stalin, for their reasons. But there are also people who still favor Mao, Mussolini, Hitler, and other horrible people. Because everyone is different.
The Che line is a joke, really. It comes from Che killing 300 supporters of the Batisita government after Fidel took over. In the time leading up to the Cuban Revolution, Batista killed thousands of real and supposed rebels. I actually wrote on it a long while ago. Crazy thing, Che actually went out as a youth and saw the effects of the United Fruit Company on the population and became a revolutionary for life. Empathy being something which is foreign to Micah. If he ever did see people like that, he'd just think they had to lift themselves up by their own bootstraps.
Bob Chipman is one of those people. He is a true believer. He's also morally bankrupt and deserves the fate handed to him.

— Micah Curtis (@MindOfMicahC) February 21, 2015
The irony of Micah calling anyone morally bankrupt is never lost on me. Let's pick out some more gems while I'm here…
Speaking as a journalist who said something really stupid, it really is best to swallow your pride and say you're sorry for being a dick.

— Micah Curtis (@MindOfMicahC) February 18, 2015
When has Micah ever said he's sorry? He's said and done outrageously stupid and offensive stuff (Dreamcast MLK for example) and just doubles down on it or claims "I'm being taken out of context" Whatever, nothing will ever stop him from being a hypocritical douchebag pretty much.
I'm finding a lot of people getting mad at Techraptor are pretty blatant Vox/SB Nation fans. Considering what I dug up about CSS, I (c)

— Micah Curtis (@MindOfMicahC) February 18, 2015
(c) wonder if people would have the same feeling about SB Nation if they knew those sites tried to bury the fact they hired a murderer.

— Micah Curtis (@MindOfMicahC) February 18, 2015
Okay, so I write for Lighthouse Hockey, which is an SBN blog. That's probably the only reason your here. But Micah has been raging so hard against SBN/Vox since anytime he posted on CSS he largely got mocked. But I'm going to let a secret out of the bag here, as far as I know most of the blogs are independently run. That means that SBN doesn't really vet any of the contributors besides the managing editor. SBN bigwigs probably have no idea I exist and give no shits about me.
Also another important point, (afaik) only the managing editor gets paid. They don't pay contributors, so SBNation/Vox didn't hire a murderer. Since trying to look up anything murder related and wrestling just gets a thousand Benoit articles, I have no idea who Micah is talking about. But in all reality SBN/Vox probably had nothing to do with this guy getting hired, he probably wasn't hired and only worked as a volunteer. So good work breaking that story, Micah.
Took a second to apologize to #GamerGate over on 8chan. http://t.co/PXj3O9kEMo

— Micah Curtis (@MindOfMicahC) February 16, 2015
The more I dig, the more amazing stuff I find. Reminder that this tweet is from AFTER Micah wrote an article claiming that he's not in GamerGate. But he takes the time to write an apology to GamerGate on 8Chan, an imageboard infamous for Child Pornography (Not the Gamergate board itself, but other ones that were on the site). So what did Micah say to upset people there?