Palin Decided to Delete this Tweet from her history: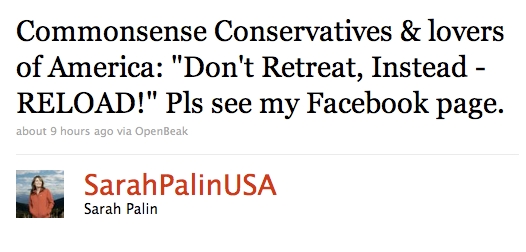 It's so sad that someone decided to take matters into their own hands when it comes to politics. Now we have a Federal Judge, a Nine Year Old and possibly others dead from this shooting. So far it appears that Giffords will survive, at least according to the reports I'm reading.
At some point though, this shouldn't be surprising. Following the debate for the Republican National Chairman which included the following question "How many guns do you own?", the militancy on the right has been obvious.
From the Tea Party to the other voices, the Right has been yelling that they will take back their country "One way or Another…"
People like Sarah Palin, Glen Beck, Rush Limbaugh and those other blowhards will claim that they never wanted this. That despite their rhetoric they never wanted someone to be assassinated. But they should be held responsible for inciting people to take these actions, especially when in the case of Sarah Palin YOU PUT A CROSSHAIR OVER THE CONGRESSWOMAN BEFORE SHE IS SHOT!!!
I'm sure that this will be just swept under the rug, but for prosperity let's not forget that Sarah Palin might have had a big hand in this: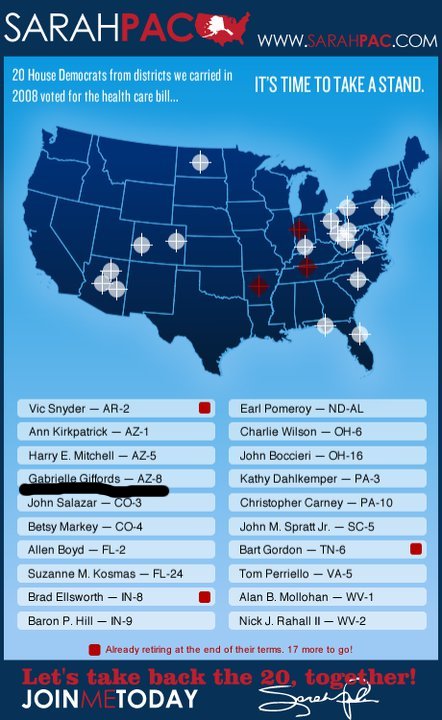 Congrats Sarah Palin, you might have gotten someone to help you take back one of the 20!
Interestingly Represantive Giffords had talked about this:
"For example, we're on Sarah Palin's targeted list, but the thing is, that the way that she has it depicted has the crosshairs of a gun sight over our district. When people do that, they have to realize that there are consequences to that action," Giffords said in an interview with MSNBC.
And now the Right is out in full force doing damage control. They are claiming that the shooter was an ultra liberal because someone on twitter said they knew him in 2007. Of course they have no verification of this, but hey why not? Of course they are also claiming that because he listed his favorite books as The Communist Manifesto and Mein Kampf that he is obviously Liberal. Yes, many of my Liberal friends have read Mein Kampf. Now that they claim to be looking for someone else involved in the shooting, let's see how their "oh he was Liberal" holds up in the long run.
Related Posts:
3 Responses to "On The Shooting of Rep. Gabrielle Giffords"