So with the whole Giffords shooting, I have seen a lot of people come out from the right and claim that the left makes just as violent a level of threats. Most of these are from protests (and really, do we have to start showing pictures of what the Tea Party protests look like in comparison?) along with a poorly edited quote from Kerry back in 2004. I was thinking about it, and really, if your on the left you most likely believe that Bush Jr is guilty of war crimes. His home state of Texas is also one of the most infamous when it comes to executions, and during his time as Governor even the mentally ill faced the possibility of the death penalty.
If you believe that Bush is guilty of war crimes (an excellent argument made in this book by Vincent Burgliosi) then you view him as responsible for the deaths of over 2000 American soldiers. This isn't even considering the Iraqi civilian death count. As governor Bush showed no compassion for anyone on death row and wouldn't show it for someone who had a hand in 2000 American deaths. While some people on the left might be a tad nuts and actually want to kill Bush, I think most people would want him to face a fair trial. All but the most clueless of Americans have to know that Bush lied to start a war with Iraq, claiming Iraq was a threat and a sponsor of Al Queda (along with the nudge nudge wink wink they sponsored 9/11).
When people talk about killing Obama (or shooting representatives) you have to question what exactly was done to them?  You can't even make the argument that Obama somehow stole the election. They want to kill him because he's not an American Citizen? (btw Snopes even says he's an American) They want to kill him because he gave them health care? I mean it's a flat out ridiculous scenario. Let's not forget that Giffords made Palin's crosshair map because she had voted for health care.
It's unfathomable that people are actually upset over getting government health care. In 2000, the last time the World Health Organization did global rankings (and at a time when the US economy was strong) the United States ranked 37th. We were behind Costa Rica and in front of Slovenia. Those horrible socialists in Cuba were 39th. So even in the best possible situation, the American health care system was ranking around 2nd and 3rd world Countries. For what should be a Superpower, being unable to take care of your own citizens is an embarrassment. Especially when you consider how much Cuba is hurt by the trade embargo.
Of course you could always have the delusional thought that Obama is a Muslim Nazi Socialist who will destroy the country by all means necessary. If you believe so, I'm shocked you've gotten this far in this post. But to be fair, if you had an understanding of history at all you'd realize that it's impossible to be a Nazi and a Socialist. Now you could make the argument that the Nazi party was "National Socialist" but the reality is that the Socialist was there in name only. While Hitler told the workers he was for them, he would tell the capitalists that it was a lie to get the vote of the people.  Also as I've mentioned in the past, the Communists and Socialists were some of the first people the Nazis rounded up when they took power.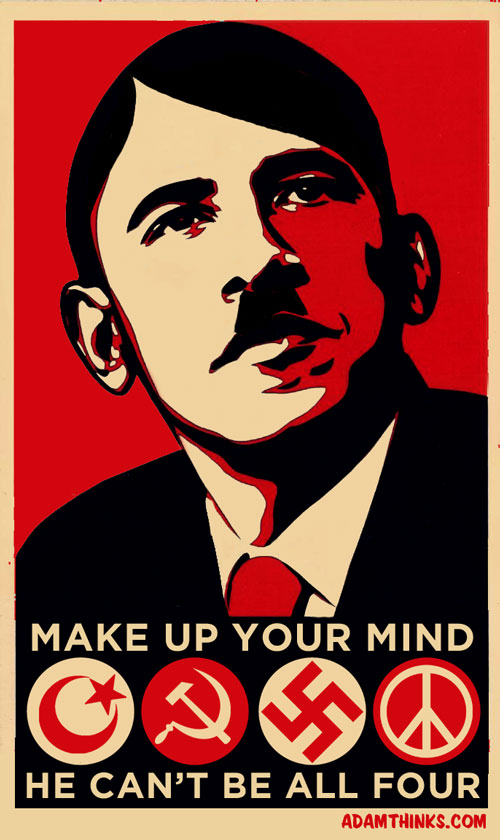 Related Posts: