Alright, I'm still sick but I'm going to try to update you guys on my glorious Islanders.
Biggest news: I traded DiPietro for the 5th Overall pick in this draft from the Blackhawks. Stan Bowman is a genius too it appears. So my duo in the NHL is Poulin and Kosikinen. I drafted another goalie first overall like I said I would, Marc Belanger from the QMJHL. With the 5th overall I took a center, Teoder Sleyzak who is an insanely talented offensively but has no defense whatsoever. In the 2nd round I added LW Bretislav Bartov who is an all around Czech forward. In the third I added Otis Newstead a Defense first Defenseman. The next few drafts I need to start adding forwards, especially wingers. I am very low on them.
So here's the lines for this year:
Comeau – Tavares – Okposo
Moulson – Bailey – Nino
Martin – Nielsen – Ambroz (another former first rounder)
Figren – Marcinko – Joensuu
Oprik (Captain) – McBain
De Haan – Hillen
Hamonic – Katic
Mikko – Poulin
The team is 13-18-4-5 for 35 points and 7 points out of the 8th seed. John Tavares continues to get good, currently he has 40 points in 40 games and is charting among league leaders in points. Here's everyone else pretty much: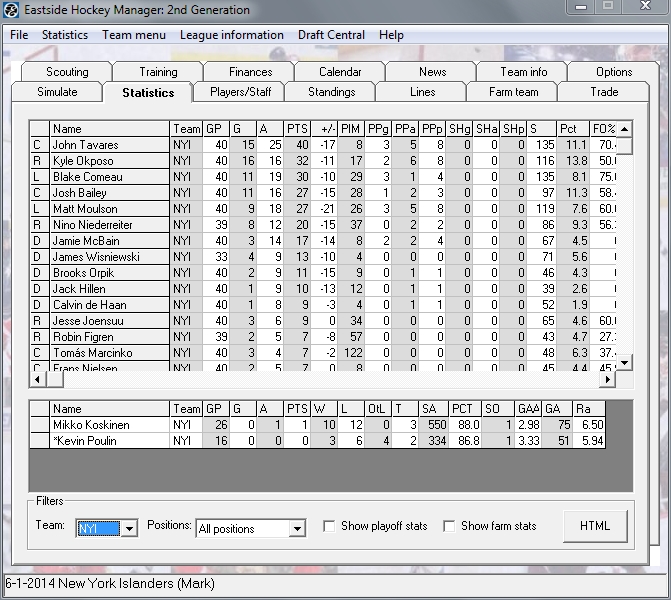 I still don't know if my defense sucks, my forwards defense sucks, or my goalies suck. I'm leaning towards the goalies sucking. Mikko has been on a roll lately though, so hopefully we can ride him out and win a few more games.
The only definitive downside right now is that James Wisniewski is done for the season. I'm most likely going to let him go at the end of the season anyway. He tends to have issues with the Captain no matter who he is. Keep your fingers crossed as we begin the second half of the season. Can John Tavares carry us the rest of the way? Will one of our goalies take the reins? Will I finally make the playoffs? All this and more coming soon.
Related Posts: