So with all the recent zombie stuff everywhere, I was reading about World War Z. It's basically about a world wide zombie breakout and humanity fighting back. Now it's relatively believable until you get to the part in which the United States falls. And no, this isn't going to be a rah-rah United States type of rebuttal. The argument laid out by Z is that after NYC falls, the army decides to make a chokehold in Yonkers and wipe out all the zombies in one large battle.
The problem? The infantry is told to dig Foxholes, while the artillery is given a limited supply of Anti-Personnel shells. Yes, with almost all of NYC zombies, they limit the amount of Anti-Personnel shells given to the Artillery and Tanks. The decision to dig out foxholes and use sandbags for barriers make the infantry easy targets. The excuse given is that the generals are leftovers from the cold war and don't realize how to handle a human wave attack that has no fear of dieing. Of course that ignores a few points: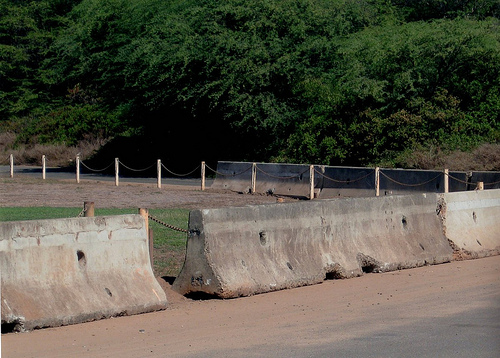 These are concrete barriers. You see them EVERYWHERE. They are nearly omnipresent. That makes it far easier to round up a bunch of them. If you stack them two high (and you can stack them easily) it's about the same height as a person. You can also move them around and get together a large stock of them in a relatively short time. If you've ever seen the movie Volcano with Tommy Lee Jones, you know what I'm talking about.
This idea also fails because both the Soviets and the Chinese would make use out of Human Wave Tactics. The idea that these generals wouldn't know how to react to human wave tactics is almost as silly as the idea of digging foxholes and making sandbag barriers. Instead you would most likely put up a barricade and then dig pits in front of those barricades. This isn't a new tactic actually, it's been used for thousands of years. Just think of a moat around a castle. Caesar and the Romans infamously did this a lot of time, even using camouflaged spikes in the pits in front of the barricades.
With construction tools and barricades, you could fairly easily make a large pit with a barricade on one side. Then it would just be a matter of setting up machine guns on heights and killing wave after wave after wave. Why you would ever limit the amount of anti-personnel shells when fighting ZOMBIES is just silly. The zombies aren't going to suddenly start rolling up with tanks and airplanes.
Look, there's a lot of ways for the United States to fall to a zombie apocalypse. Generals deciding to ignore tactics which are thousands of years old and would still work isn't one of them. Hell, if you had enough archers you could probably use modern machinery to setup the defenses and still stop the zombies. Almost any armchair tactician could come up with a better plan then that which was used in the Battle Of Yonkers. That's where the book losses me. It also doesn't help that for some reason people didn't try to make a stand at the Mississippi River and ran all the way back to the Rocky Mountains.
Look, it's not exactly easy to cross the Mississippi, even more when you consider how far it's major tributaries reach. In one of my favorite comics Evil Ernie, the Mississippi Wall holds out the hordes for years and reaches all the way up to Thunder Bay. The Mississippi would be one of the first major obstacles to someone invading from the east. That the zombies seem to spread past it without much trouble is odd. Did no one think to destroy the bridges over the rivers? You could still use barges to get people over the river. Or when the Horde is within site you could blow the bridges. Either way it's a large plothole you could drive a truck through.
Related Posts: