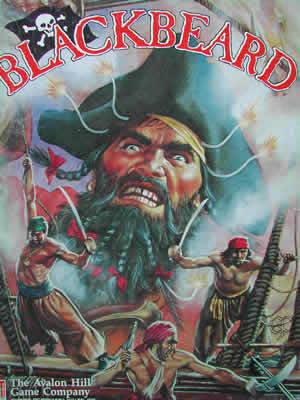 Blackbeard is an Avalon Hill released board game based on the Golden Age of Piracy. I've heard both good and bad about the game over the years. But until Merchants and Marauders was released it was considered the top pirate board game. Being as old as it is and a part of the Avalon Hill family makes it a tad interesting when it comes to being a pirate game. The board itself is a map of the Carribean along with the shore of North America, Central America and most of North South America. On a secondary board is the Gold Coast of Africa and Arabian Sea. It is possible to travel between all three locations The ocean itself though is a hex grid, very much like most AH wargame releases of the day. Movement is a six sided dice roll + ships speed modifier. Which means you never know exactly how far you might go from turn to turn.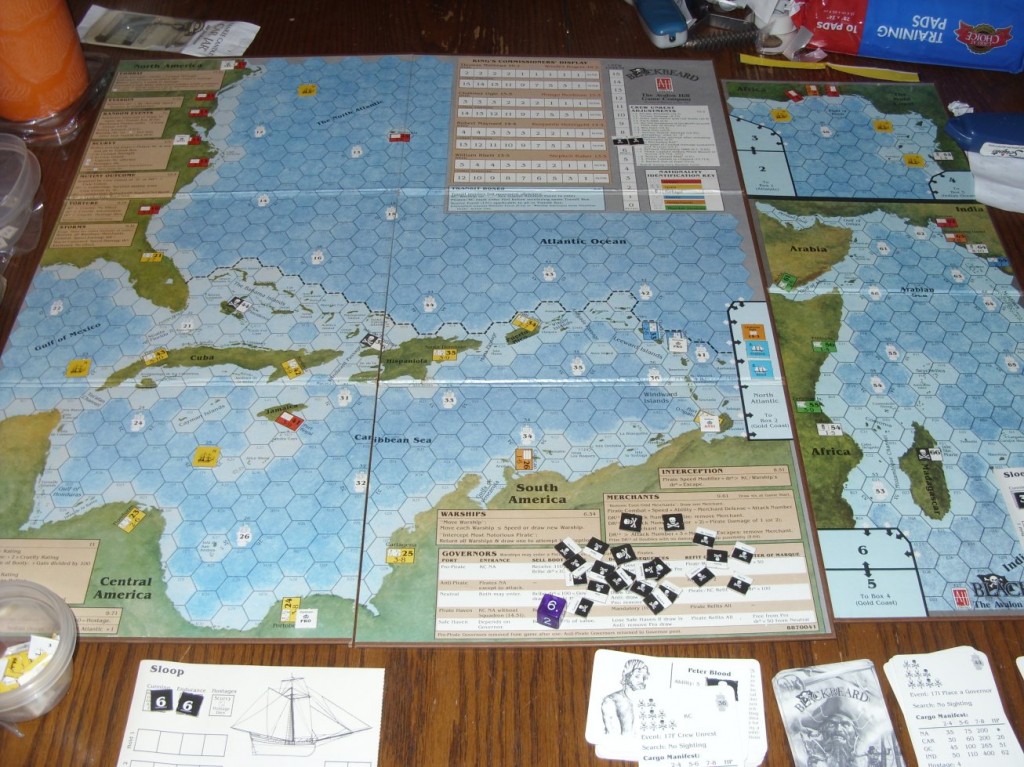 You also never know when your next turn will be. The main mechanic in the game are the Cards. These cards list just about everything, from the value of the booty on ships, to hostages, possible injuries, events, sighting and above all else it lists whose turn it is. As Blackbeard is a 1-4 player, the cards are also used to determine who has next turn (in both the solo and multi-player games). So the cards might give one player a long run of turns in a row. I think it's chaotic nature works well considering the subject matter. But a lot of people have complained about it leading to some players sitting around for long periods.
Each player takes control of 1-3 Pirates, and also can control 1 King's Commissioner who are trying to chase down the pirates. As a pirate your trying to gain notoriety (100 wins the game). You do so by successfully capturing merchants, escaping KCs and Warships that are out to get you, raiding and destroying Ports, capturing and torturing hostages. At the same time you have to keep your crew happy and your boat afloat. Although there is no true combat between pirates (something that is missing) pirate players can challenge one another to duels.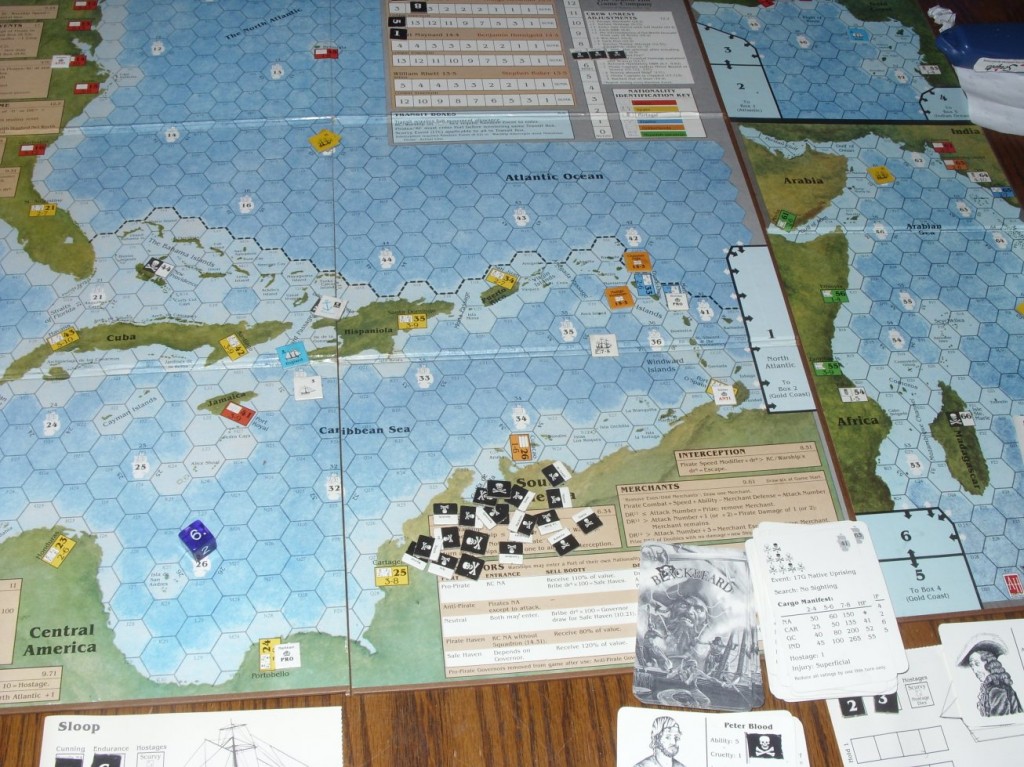 The Seas are actually split between North America, Carribean, Gold Coast and Arabian Sea. There are always merchants in the sea lanes coming and going, but you can also scout for ships as long as you moved your maximum allotment that turn. All Ports have a nationality (except for the Pirate Havens), attacking a merchant ship of a nation will anger that nation and leave you unable to go to port. This was something I found the tough way as my one pirate proceeded to anger every country on the main board and had to start selling his booty at Pirate Havens for 80% of its worth.
Most of your stats are taken care of right in front of you via a ship log. This was a good idea, but because you use Chits to mark all information, it tends to be tough to keep track. I think for the next game I'm going to get some Dry Erase boards and use that to keep track of most of the information. Oddly enough your mutiny level is also marked in a separate area in the top corner of the main board.
Also you can't purchase new ships in game, you have to capture them by rolling doubles. But since your going for a low roll while capturing ships (commonly between 6 and 10) it can be tough to accomplish. In my game though, once Stede Bonnet who was in last by far managed to capture a Brigantine from a Merchant and started raising hell. It also helped that he captured two hostages in a row and successfully tortured them, giving him information to help take two different wealthy ports.
Along with facing Mutinous Crews, Kings Commissioners and Warships, pirates also have to deal with Scurvy and Storms. Storms come up as a random event, removing ships close to a pirate and causing damage to their ship. Scurvy meanwhile beats up your crew, can cause damage to your captain and ruin morale as you try to rush to the closest port. As I've noted before, once you've attacked a merchant of a nation you can no longer use that nation's ports. Now there's also Governors who can come and go, they come in two flavors, Pro-Pirate and Anti-Pirates. You can also bribe a Port in order to try to put a Pro-Pirate Governor. Pro-Pirate Governors are also needed in order to make a port a Safe Haven for you. Among the many benefits of a safe haven are stashing gold and you make more when you sell booty.
Taking hostages and torturing them for info is probably the best way to gain the most notoriety and wealth. With information from hostages you can roll 2d6 and combine the total instead of a 1d6. Torturing hostages always improves the mood of your crew too. If the hostage survives, not only do you get info that helps you take a town, but you can also ransom the hostage for an additional 100 gold.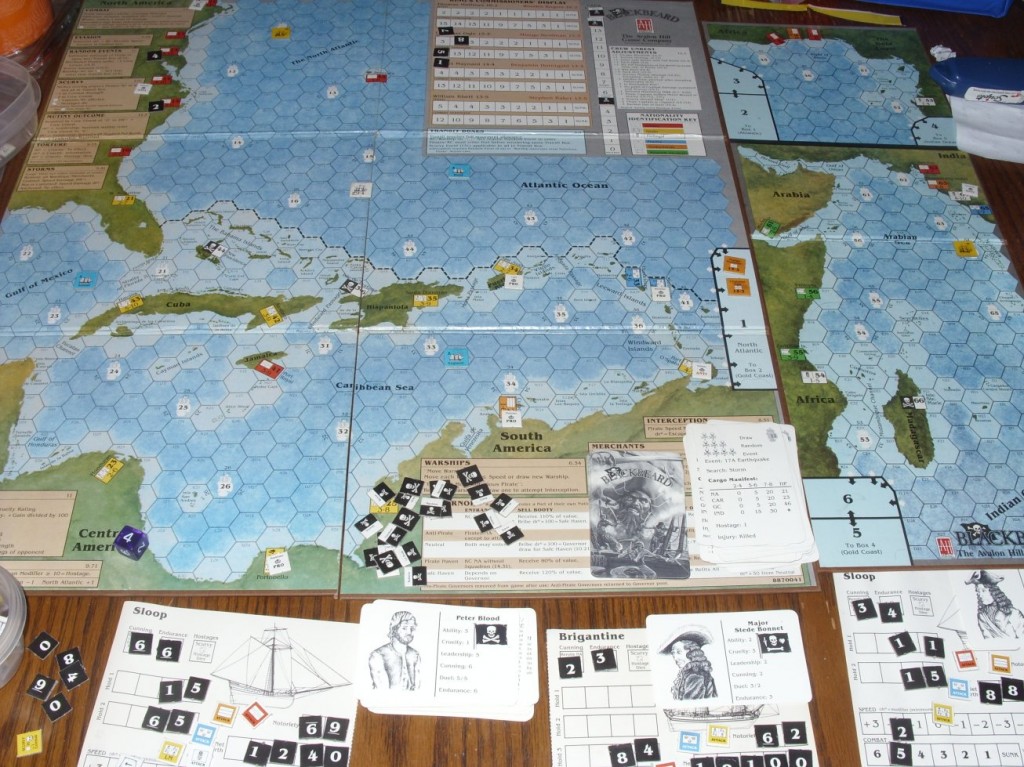 The rules suffer from the normal problems with AH rules. They come off as very lawyer-ish, and it seems like the particular rule your always looking for is somewhere odd. Once you get rolling with the game though you'll find yourself checking the rules less and less. I recommend just playing through the game, and checking afterwards to see what you screwed up. I would think after 2-3 plays you'll have just about everything cleared up.
I liked the game, but as I said originally I got this game before Merchants and Marauders. If your trying to decided between the two, then you probably want M&M. But if you want something that's a bit more chaotic while being a bit more simulation, then Blackbeard might be for you. Truthfully though, I wouldn't spend a lot on it. I think my copy was either 10 or 15 bucks. Also I should note that this was the AH 2nd edition, not the GMT version which is radically different. But I'd have to say that I'd definitely go with M&M first, as it's easier to teach, has a definitive amount of play time and can be done with much quicker.
Related Posts: