I guess when your top defenseman finishes the season at -28, and 2/3rds of your 4th line is -20 or worse, you probably shouldn't make the playoffs. Also the team is extremely top heavy. I have 6 players who scored 20 goals this year, and then no one else managed double digit goals. Tony DeHart outplayed former Oshawa teammate Calvin DeHaan, posting 5 goals and 28 assists for 33 points and a +23 compared to CDH's 29 points and -11. Former first overall selection Marc Belanger made his debut for the team taking over backup duties from Cody Rosen. He went 10-9-1 and lead the team in SV% (91.3) and GAA (2.32). Former first rounder defenseman Aatu Pekkala made his first appearance too, disappointing with a -10 in 18 games.
In the end we finished 4 points out of the 8th seed, with a 34-35-2-11 record. Hopefully Belanger is the difference maker in the long run, and a reshuffling of our defense can help change things around for next season.
To make matters worse, the Chicago Blackhawks won the Stanley Cup. Not so bad you say? That is until you realize that I traded Rick DiPietro to the Hawks and he had an insane playoffs. His GAA was 1.99 and a 91.1 SV% to lead all playoff goaltenders. Also notable is that the streak of upsets continues, as the 1st seed in the West got knocked off by the 8th seed in a sweep.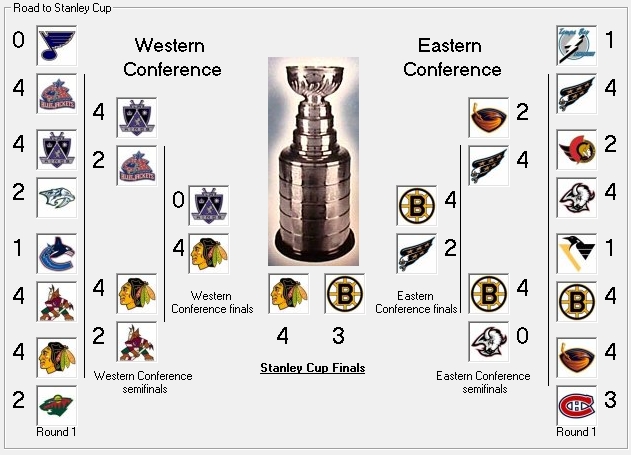 Well it's time to fix things, here's the upcoming free agents:
For the Pro team, there's really no one I'd get rid of. Kabanov, De Haan, Ambroz, Okposo, Marcinko, DeHart and Joensuu are all about to become FAs. I don't have anyone on the farm team whose better or closer to being better to replace them with.
On the farm:
Paul Karpowich: Gone, was just a fill in goalie
Patrik Nemeth: Gone
Andrew MacDonald: Stays to be a vet D presence
Chris Crane: Was an emergency replacement, gone
Andrew Yogan: One more year
Anders Lee: One more year, just barely
Christian Isackson: Emergency replacement, gone
Gregg Sutch: Same
Kirill Petrov: One more year, barely
Sam Carick: gone
Corey Trivino: gone
Jason Gregoire: gone
Jason Clark: 2 years
Casey Cizikas: 1 more year
Cody Rosen: 2 more years (3rd string NHL'er)
At the draft, I decided to try and restock our forwards, which are starting to get depleted at Bridgeport.
In the first round at 12th overall I added LW Jasson Stephens, an all around offensive player who is an American in College and was ranked 8th overall by the CSB.
In the second round at 42nd overall I added RW Rastislav Calhoun, an all around offensive player who spent last year in the Czech league. He was ranked 50th overall by the CSB
In the third round at 72nd overall I added C Ryan Maltby, an enforcer known for his backchecking and forecheking the Canadian had 72 points and a +38 for Motcon in the QMJHL last year. He was ranked 75th by the CSB
In the fourth round at 102nd overall I added RW Jinrich Frank who played in the Czech league last year and is a power forward. He was ranked 98th by the CSB.
In the fifth round at 132nd overall I added D Josef Dluhosch a stay at home defenseman who played in the Slovak league last year. He has all the potential in the world, but has horrible consistency and loyalty.
And here are the full stats for Year 6, which would technically be 15-16.
The Calendar for the year
The Calendar for the Playoffs
The New York Islander Stats
Last Years Stats
The Bridgeport Stats
Last Years Stats
Pro Stats
Mighty Ducks
Thrashers
Bruins
Sabres
Hurricanes
BlueJackets
Flames
Blackhawks
Avalanche
Stars
Red Wings
Oilers
Panthers
Kings
Wild
Avalanche
Canadiens
Predators
Devils
Rangers
Senators
Flyers
Coyotes
Penguins
Sharks
Blues
Lightning
Maple Leafs
Canucks
Capitals
Farm Stats
Albany River Rats
Chicago Wolves
Cincinatti Mighty Ducks
Cleveland Barons
Detroit Vipers
Grand Rapid Griffins
Hamiliton Bulldogs
Hershey Bears
Hartford Wolfpack
Houston Aeros
KC Blades
Louisville Panthers
Lowell Lock Monsters
Manitoba Moose
Miluwalkee Admirals
Manchester Monarchs
Norfolk Admirals
Philly Phantoms
Portland Pirates
Providence Bruins
Quebec Citadels
Rochester Americans
St Johns Flames
St Johns Maple Leafs
Springfield Falcons
Syracuse Crunch
Utah Grizzlies
WB Penguins
Worcester IceCats
Playoff Stats
Coyotes
Canucks
Predators
Oilers
Kings
Blue Jackets
Blackhawks
Blues
Bruins
Thrashers
Sabres
Senators
Capitals
Lightning
Penguins
Canadians
The End of Year Standings
The Scoring Leaders
The Playoff Scoring Leaders
Related Posts: