History is an interesting thing. When an event takes place, you can have a hundred people see it and be given a hundred different interpretations of what happened. Governments and rulers through history have also taken advantage of the short sightedness of people along with this to increase their own power.  Even in today's internet age, it seems like people are still trying to use this tactic. People will stand up and yell into their bullhorn that they were right and have always been right. You know, until someone actually bothers to dig around and call them out on it.
Even though once you put something on the internet it never dies, some big mouths still like to think that if they tell you their predictions were right all along, you'll believe them. But all it ends up is taking one person to start digging around and finding what was actually said. Unfortunately even if someone goes through the work of digging it up, it usually doesn't get out there at all. But knowing is half the battle.
I'd also like to take a moment here to mention that I think I'm far from perfect. I've had many moments of stupidity when talking about different things. I'll be more then willing to admit I'm an idiot to anyone. I write this blog mostly to entertain myself, and I write for LHH because I love the Islanders. I don't see myself as a journalist or anything special. But if I can entertain you for a little bit, then it's all good by me. So anyway I was reading my twitter feed today and saw this: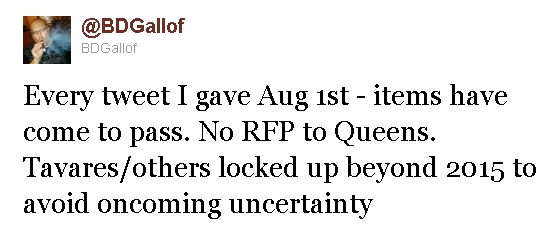 So I was curious and checked to see exactly what BD had written on August 1st. Unfortunately a twitter archive only goes back too far, especially when you have a ton of tweets. But I was able to find a website that archives most tweets, so I gave it a quick search and came up with these two pages of results from around Aug. 1st:
Highlights are my own, but I really don't see any great world changing predictions. Wang has said time and time again that he is not selling the team, and despite not putting in an RFP for Queens the Isles are holding an exhibition at the Barclay Center before next season. The biggest thing is the belief that the Islanders are going to be a team at the very cap floor or as close as possible since then. Including this gem days later: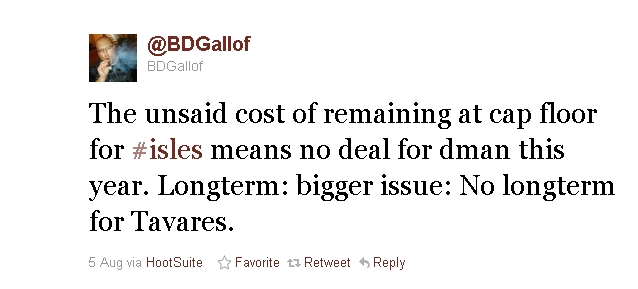 Since then of course, not only has Tavares gotten a long term deal but so has Frans Nielsen. It also appears that PA Parenteau will be in discussion for an extension and Snow has floated the possibility of Evgeni Nabokov returning to Long Island. I think Wang understands that it's easier to get support behind a winner (unless your the Rangers) and is spending money now in order to make more money in the long term.
But the whole point of this is to never take anything at it's face value. It's always worth taking some time to do the research yourself.
Related Posts: