Google Trends can give you a pretty good idea when someone is being searched and what for. Now it is somewhat early for the 2012 Presidential election, but I think google trends does a pretty good job of showing why Palin probably won't be elected President. Quite simply I'll be surprised if she somehow wins the Republican nomination. She is hardly searched that much even in heavy Republican states. In some states her searches dip down to almost nothing.
Like Ann Coulter (remember her?) before her, people are only interested in Palin when she says or does something crazy. Day to day she just does not attract national attention, or even enough attention in single states to be considered a realistic candidate.
First up two examples (All the charts are based on the last twelve months) comparing Palin to her former running mate McCain: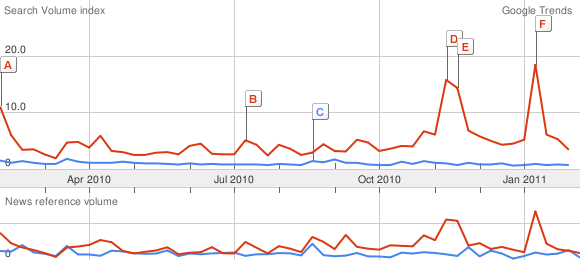 McCain gets a fifth of the searches that Palin does, but that is mostly due to Palin's "Stupidity Spikes" She begins the year on a spike from her acceptance by the Tea Party, fades in and out during the primary season, spikes following the Republican victory (an incoming tide rises all ships) and spikes again for the Gabrielle Giffords shooting. The Flag for B for example is a spike due to Bristol Palin and Levi Johnston getting engaged, as Palin was obviously helped somewhat by her reality show and her daughter being on dancing with the stars.
Now no one would consider McCain a candidate for 2012, so maybe it's not a good comparison. But what about Palin as compared to Glenn Beck?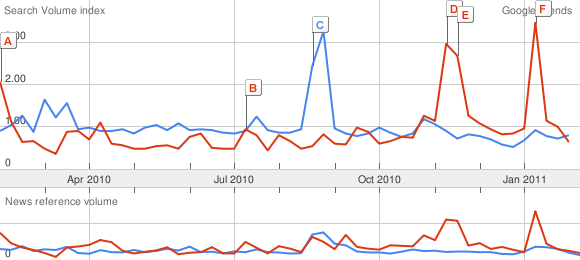 Beck and Palin spend the year going nose to nose, but no one would consider Beck a possible future candidate for President. Surprisingly the C Flag is for Glenn Beck's rally, which while giving Beck a large spike failed to make much of a dent over the B Flag which once again is Bristol Palin's engagement. D and E Flags are post election searches for Palin, while the F Flag is once again for the Giffords shooting.
So now how does Palin compare with Obama? Nationwide not well at all: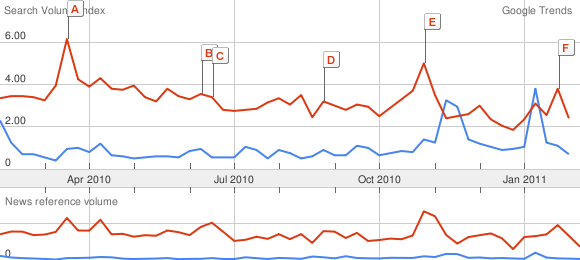 Overall people are three times more likely to be searching for Obama then Palin, with Obama having a much steadier pattern. His three major spikes are A Flag which is the signing of the Health Care Bill, E Flag which is the election (which outspikes Palin's post election spike) and the F Flag for his speech on the Giffords shooting.
Now you might say "Well how does Palin do state by state" since the election is won via state and not popular vote. Really it's not that much better. Alaska is the only place that she runs head to head with Obama via searches:
Alaska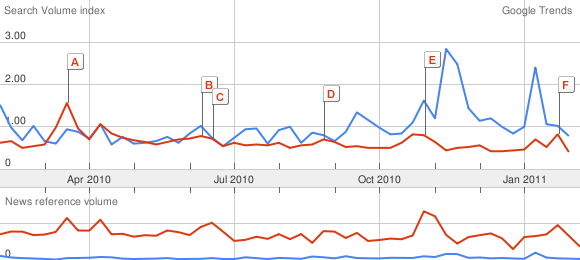 Of course one might mention that not all Palin press coming out of Alaska is positive considering the corruption trials going on currently. But what about possible Swing States like Florida and Pennsylvania?
Florida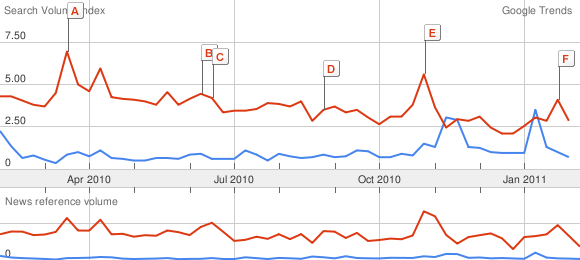 Pennsylvania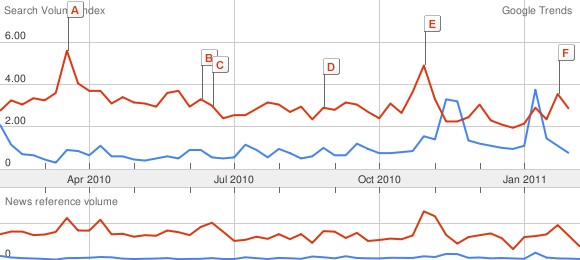 Well what about Republican Strongholds like Alabama and Texas?
Alabama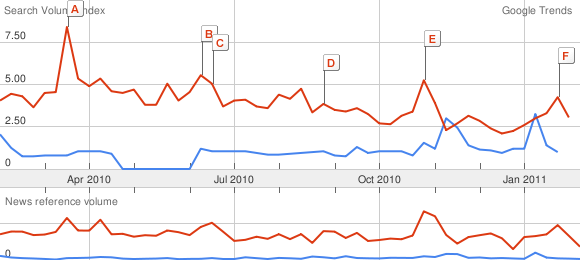 Texas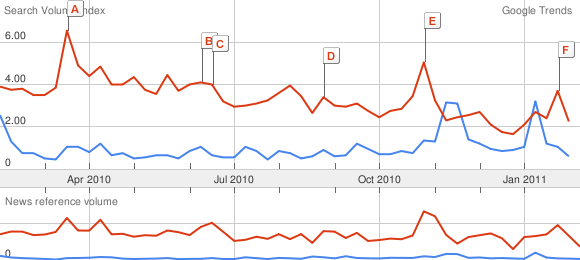 In Alabama she Flatlines during the spring, and in both Alabama and Texas her news stories are almost non-existent. She actually probably fairs better in liberal states over the long term due to her daughter being on Dancing With The Stars. Let's take a look at California:
California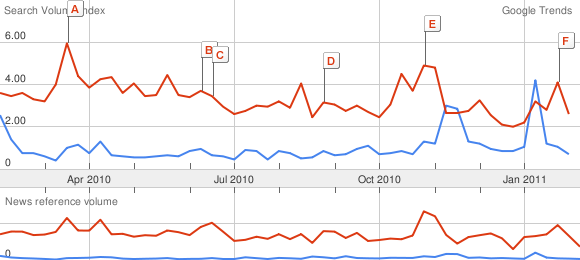 It's quite evident that people don't take Sarah Palin seriously. People don't think "What is Sarah Palin's opinion on …?" and go searching for it. Instead she says something or does something insane and people go looking for her. I haven't even gotten into the news reference volume which tends to be almost non-existent. People don't write about her and don't talk about her unless she's fumbled the ball badly somewhere. In the end she probably doesn't want to be President anyway, it pays better to keep going on speaking tours, releasing books and working for Fox. If she was President she would have to be held responsible for once.
By