Posts tagged: Browning Neagle
I hope the dying shithole that is Pittsburgh ends up in worse shape then Flint Michigan.
By
The Miracle Mets in 86 was back when I was all of 5 years old. Looking back and seeing how close that team came to losing (Thanks Billy Buckner), I should have been ready for what the future held. Since then as a fan of the Mets, Jets, Knicks and Islanders pretty much all I've known has been losing. The Mets have gotten to the World Series once since then, the Jets rarely ever get to the AFC championship game let alone the Super Bowl, the Knicks had a strong run but have been a laughing stock and the Isles, well if the Knicks are a laughing stock I'm not sure whats the next word down.
Look, it's been a long hard time being a fan of all those teams, and tomorrow already feels like the Super Bowl. Let's put aside the fact that I've hated the Steelers since they cheated to get to the Super Bowl with Neil O'Donnel (Kordell Stewart left the endzone and came back in before catching the game winning touchdown. They also have the most obnoxious bandwagon fans around, an asshole of a quarterback, the refs handed them their last Super Bowl win and they can shove all six of their Super Bowl rings up their collective asshole. Right now the Jets haven't gotten to the Super Bowl in way too long. This is the first time they've gotten to the AFC Championship game twice in a decade. They need to have the Ghost of Leon Hess come up and say "I'm too old to wait, I want to win now!" to give them a kick in the ass.
Look, I really don't care how they do it, but the Jets have to win tomorrow. There are no fans less deserving of a Super Bowl (another) appearance then the Steeler fans. Sure, Mike Vick is a villain but Ben Roethlisberger is able to get away with a certain crime that Rhymes with gRape and be cheered. Did  anyone protest his first game back? No, because people care more about Dogs then they do real Human beings. It's been almost 25 years now since a team I like has won the Championship. I have since been taunted by everyone other NYC team winning and some Jersey teams too. I had to sit through the one Mets World Series appearance being spoiled by the Yankees. That the Giants have been to the Super Bowl multiple times and have won multiple Super Bowls. The Oilers pretending to be the Rangers even managed their once in 54  year miracle.
Look, I'm not sure what the Steelers did to deserve their six Super Bowl wins, the Refs constantly making favorable calls for them, or the reason that Philly stations broadcast the Steelers instead of the Jets. But as bad as all that is, if I have to sit through another Super Bowl with the Steelers in it, after they have beaten the Jets, I am going to lose my mind. I am going to start throwing stuff out my windows. The Steelers are the biggest pieces of crap, and they walk around as though their shit doesn't stink. Their fans? even worse. If your a Steeler fan I probably hate you. For the most part your just like my ex, you don't care about football until someone tells you the Steelers are in the Super Bowl. Then you run out and buy your brand new overpriced Bettis jersey cause you don't realize that no talent is retiring at the end of the season.
Right now I am so angry at the thought of the Steelers winning tomorrow that I am nearly breaking my keys. All season long I've been telling my cousin to calm down because he gets overhyped for games. This is the reason why. You save up that anger and emotion for an important game. I knew the Jets were going to beat the Colts, I knew the Jets were going to beat the Pats. That wasn't an issue and I wasn't over excited. But now the Jets have to go out and win the big one to get to the game. This is why Ladamian Tomilison, Jason Taylor and Santonio Holmes was brought in. To win the big one and get the Jets over the hump.
Of course they also want their Super Bowl Rings which two of them are missing and Holmes probably has revenge on his mind. He had to pay the price for Big Ben's infractions. No matter your regular season stats, do you really want to retire from the NFL without a ring and leave your legacy up in the air? People excuse Marion and Sanders, but you have to be insanely talented and stuck on an awful team to be remembered on that level. It is time for those guys to win the Super Bowl now, and to bring one home for the Jets fans.
We've been through a lot as Jets fans. Ken O'Brien, Browning Nagle, Rich Kotite, Neil O'Donnel, Bubby Brister, Rich Kotite, Rick Mirer, Al Groh, Rich Kotite and Eric Mangini. That's just from the time period I've been watching them. Don't forget there seems to be a lot of crossover between Jets/Mets/Islanders fans. We've all been suffering for nearly 30 years now. We deserve a winner. It feels like it's now or never, like we'll have to wait another 30 years for there to be another winner. That and did I mention I really hate the Steelers and their fans? No? Well I really do hate the Steelers and their fans.
So Let's go J-E-T-S JETS JETS JETS! and hopefully we'll see Fireman Ed at the Super Bowl!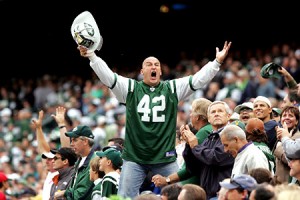 By