While one of my favorite subjects is the American Civil War, I do tend to concentrate on the eastern theater of the war instead of the west. I think it's mostly due to the personalities, and something about Stonewall Jackson that captured my imagination. Of course there was Nathan Bedford Forrest out west, but most of the other personalities were in general solid, able commanders who died for their commanders blunders. I've read up on the defenses of Bragg, but in the end it still appears that he hurt his own cause more then he helped.
So other then Pea Ridge and Shiloh, I haven't played many western battles of the Civil War. Not too long ago I got "War of the States: Chickamauga & Chattanooga" on a relatively cheap deal. I've managed to do that quite a bit with titles from Avalanche Press, but so far I haven't had a complaint about them. Then again I'm not expecting much when I'm not paying a lot for a game. I've always considered myself leaning more towards the beer & pretzel or bucket of dice kind of game, and WOTS:C&C is both.
There is one major problem that you will notice right away looking at the map: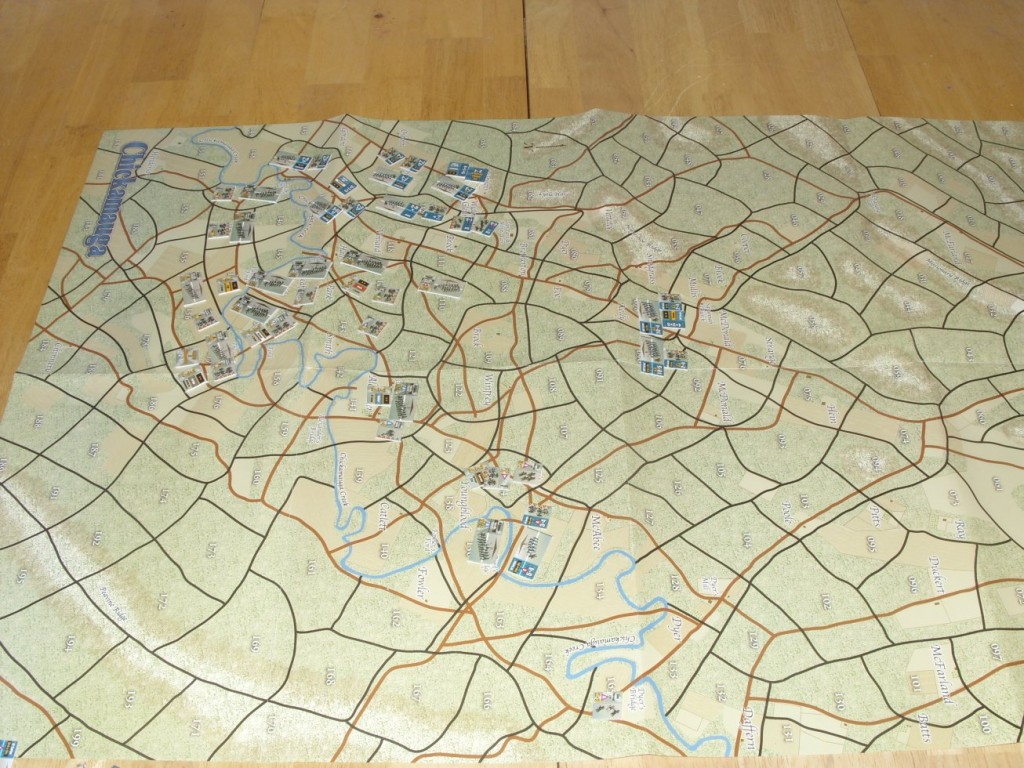 That's the setup at turn 1, and the Brown roads that run through the borders (and the rivers for that matter) tend to make it tough to tell where some borders start and end. For me though at least the folds for the map tend to stay down and don't upset the counters unlike a lot of other maps. Speaking of the counters they are beautiful, but are somewhat tough to differentiate for setup. The setup charts don't tell you which symbol is for the corps and which is for the division, so I tended to reverse the division/corps number for the counters.
The game is rather easy to teach. Each unit has a fire and morale rating. The fire rating adds into the number of 6 sided dice a side uses with 6 being hits. The stack with the better morale adds another dice. I should mention I am always bad at teaching games. That's why I try to stay away from the rules when reviewing games. Each general has an initiative rating, it's importance being that both sides roll a dice at the beginning of the turn. The side with the higher roll (using initiative as a DRM) goes first for that turn. So Rosecrans and his 5 rating tends to go first before Bragg who has a 3. Then you would roll and whatever amount you roll under the initiative. So if Rosecrans rolls a 3 he can activate 2 corps, and if Bragg rolls a 2 he can activate 1 corps. So the Union tends to get more moves and the South ends up reacting more.
People have complained about the system, but in my opinion the Army of Tenseness tended to have poor overall commands and some commanders who would flat out refuse to listen to Bragg. The Battle of Chickamauga itself was lost more because of a poor command from Rosecrans (which opened a hole in the front line) then anything the Confederates or Bragg did. Bragg even managed to fumble the victory, as it took 21 different assaults to finally force back Thomas. Those assaults were haphazardly thrown together instead of one concentrated assault that would have easily destroyed Thomas.
The game plays quickly, although the one in six chance of a hit tends to be frustrating. Sometimes you can role ten dice versus four and just have luck go against you and take two hits while giving none. I've never really complained about luck in a game though, because I think luck is always something important in a battle.  People have also complained about the high amount of casualties, mostly based on the multiple counters for each division. Most divisions have 4 counters with weakening strength on each side. So if you stand your ground instead of retreating for step hits you can run through counters quickly.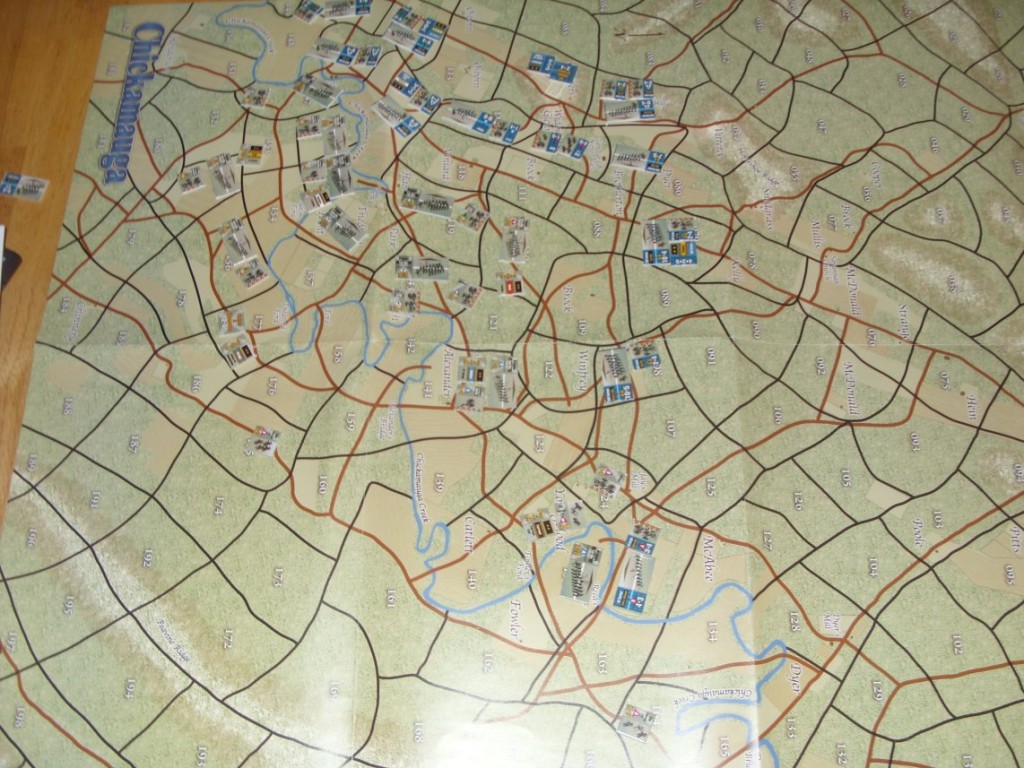 I also liked Across 5 Aprils, just to give you some background on the type of civil war games I do like. I tend towards the lesser heavy simulation games (For example I dislike The Gamers Civil War Brigades Series) and this felt pretty solid. There is some trouble reading the rules that I had mentioned before, and some ambiguous moments.
But a lot of the complaints about the game seem to be complaints that are common among avalanche press. But so far in my experiences I haven't had a problem with their games yet. I still have some that I have to play. After playing this I want to give a try with the first game of the series which is based on Gettysburg. I think I also have some of the series that this is based on, War of the Empires, a Napoleonic era game.
There are probably better games out there , and better games covering Chickamauga and Chattanooga. I think I paid 15 bucks for the game and felt like I got my money worth. I'd also love to sometime try the campaign that combines both battles into a massive game. I wouldn't tell you to go out and particularly look for the game. It would definitely be one of those things you keep in your peripheral vision.
By