This may come as a shock, but I was never a huge fan of Keith Olbermann. I always considered him a bit of a douche when he was a host on Sportscenter, and couldn't have cared less when he got his own show. I've come to have a respect for his show and I've enjoyed a lot of the clips of it I've been sent. I don't think I ever saw a full episode, and I almost always changed the channel when he started interviewing someone (I do the same to Stewart and Colbert). I've heard some rumors about him being a jackass in/around the MSNBC offices. But I've also heard a lot of people claim that no one else worked as hard on their show, with him being involved heavily in daily research.
But you have to give him credit where credit is due. If he helped guide MSNBC to a more left leaning network, then he did political discourse in the country a favor. While Fox News has been in the pocket of the Republican party, the other news networks have taken a middle of the road path with an unwillingness to call them on it. Considering that George W Bush was re-elected in 2004, it wasn't the popular thing to come out against him before the election. But it was the right thing to point out the lies and fearmongering being used by the right. I remember when Bush was first announcing the invasion of Iraq, I was telling everyone I could that it was a waste of life and no one took me seriously. My friends now take me seriously when I talk about this stuff. It was the lack of a counter which allowed the whole country to be taken down the rabbit hole.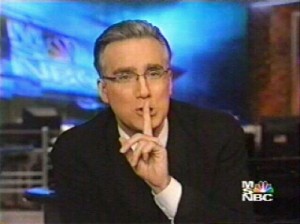 One thing you really have to give MSNBC/Olbermann credit for is that unlike Fox News they aren't just lapdogs for the Democrats. They have been just as critical of Obama as they have ever been of Bush. It even got to the point that I remember the Daily Show claiming MSNBC was doing it wrong when it came to defending Obama. During his time with the network he was the figurehead and central in their movement from an also-ran to Fox News biggest rival.
Now because I'm insane I was interested in seeing what the comments would be like on Yahoo! News comments. I don't know why I keep going back to them, I guess I'm just amused as to how much venom people can have for someone. I mean the right is so riled up about MSNBC and NBC they'll actually chant NBC Lies at rallies. It's almost like the 2 minute hate. I sorted these comments based on the Highest amount of ratings:
"Good! He was worthless!" 1325 Up 507 Down
"Good riddance…." 810 Up 245 Down
"He is a lying piece of crap." 738 Up 213 Down
"Best news I've read all day" 734 Up 181 Down
"the world is a better place with him off the air" 716 Up 189 Down
"I Love Lucy re-runs would get better ratings." 589 Up 138 Down
"It is a shame. Countdown was the best news show on the air." 562 Up 1498 Down
"Take Rachel Maddow with you – you're both idiots!" 521 Up 148 Down
"Accuracy was his forte.Showing you with facts how the republicans LIE to the masses was his specialty. Sure gonna miss him." 438 Up 1225 Down
"We have lost a critical voice in our countries debate" 405 Up 1136 Down
I don't get it. Two of the three positive comments for him were relatively minor and didn't bash anyone. You would think such comments would have gotten some love especially when someone's leaving their job. How the negative comments combined don't have as many down votes as a single of the positive comments is mind melting. Is the internet that conservative? am I overrating the amount of conservatives on the internet? I mean there are some people who no matter what craziness they did get a positive response from people as they leave.
I really wish the best for Keith Olbermann, even if I do think a good amount of it might have been him being a douche around the offices. I also hope this isn't a sign of NBC taking a new direction with the channel now that Comcast has taken over. Thankfully we have Brent Bozzell (seriously, someone interviewed him about Olbermann and it was in the AP report) to inform us that the show taking over for Countdown is an even bigger evil meanie liberal. I guess for Conservatives it's be careful what you wish for.
By