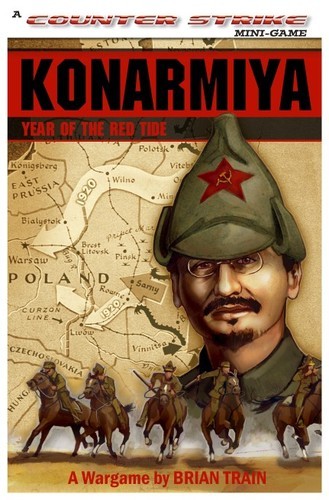 Konarmiya is actually a prequel to a previous game I reviewed, Freikorps. It also connects with Freikorps, allowing you to play out the historic Polish-Soviet war of 1920 and if the Soviet player is successful the game can continue into Freikorps.  The game is very much like it's predecessor, a small rulebook, two counter sheets, two dice, a ton of reference charts and a paper map. The rules are just about exactly the same (as far as I can remember) except for the addition of supply rules based on HQ units.
Using the non optional rules, each side has it's normal units and it's shock capable units. For the Soviets that means the Konarmiya, who were originally a small Cossack unit that sided with the Soviets in the Civil War. For Poland that consisted of The Polish Legion, veterans of WW1 . Also these units have higher cadre levels which shifts the battle results if you have a higher cadre level. There are the return of AP units, in the form of Tanks, Planes and Artillery. The game also has the Trotsky Train and Piludski as optional HQ units.
As most of the rules are the same, there's not much to really say that I didn't in the Freikorps game. It's a small game yet again, easy to setup and quick to play once you get rolling. My few problems consist of struggling with the small chits, having to constantly flip through a bunch of reference sheets because my smaller table space didn't let me setup every card like I did last time. While you don't need constant access to the reference sheets, it does make life easier. The one other somewhat major issue I had is that I didn't understand the difference between reinforcements and replacements. Reinforcements are a certain number of steps (all units that aren't division sized are 1 step, divisions are 2 steps and after losing a step are replaced with a remnant unit) decided by your morale level. Replacements are decided by the combined attack strength of eliminated units divided by your morale level as a percentage.
But as far as I could tell, reading the rules multiple times, there are almost no differences between reinforcements and replacements. You could use both types of step points to flip remnants back to full strength divisions and both could be used to bring new units onto the field in relatively the same positions. The one difference is that reinforcements can be saved from turn to turn and replacements can not.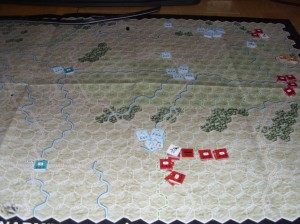 Those few sticking points aren't much though. This is another solid, small scale, affordable game from Brian Train. Even without the Alternative History aspect of Freikorps, I still enjoyed the game. It's actually very rare that I like two games from the same designer (although it probably helps that it's almost the same design) so this was an enjoyable surprise. I wouldn't call this a must buy, but if your interested in the Soviet-Poland War, a lightly covered topic in wargames, then this is the game for you.
It's also a good pickup if your looking for something small and relatively simple when it comes to wargames. Konarmiya doesn't bring anything outrageously new to the table, but is solid in all common aspects. The Russians are a steamroller, something that plays well to my strengths. Unfortunately I tend to like to play a hard defense instead of an elastic moving defense and this meant in my game I basically caused the Poles to be bled white close to the first cities the Soviets could reach. I decided to call the game for the Soviets despite not losing a town or city because it was going to happen. Losing everything in the center basically screwed the north and south defenses.
So for 15-20 bucks and if your looking for an interwar period game go for it. It's not a great game, but it is a solid game.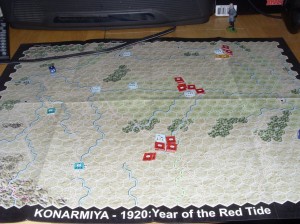 By