The Command and Colors system has always been one of my favorites. It was one of the first games (Battlecry) I got when I was getting into board games. Across the board they play relatively easy. Units are made of 2, 3 or 4 figures, they move and attack based on cards, which most often are broken into sectional attacks (left, center and right). Figures are eliminated due to hits, and when a whole unit is removed the other side gains a victory point. Sure there's more to the games that came out, but that is a quick and dirty breakdown.
Battlecry came out first, covering the American Civil War and was recently re-released. Then came Battlelore (medieval and fantasy) Memoir 44 (WW2) and Command and Colors: Ancients. While Battlecry was one of the last releases of the AH-Hasbro brand, BL and M44 were each released by Days of Wonder, while the C&C banner has been used by GMT. I own all of them except Ancients (which I have played some of) and own multiple expansions for both Battlelore and Memoir 44. I was borderline on Napolenics, but got a good deal when I purchased it around last Christmas with Here I Stand.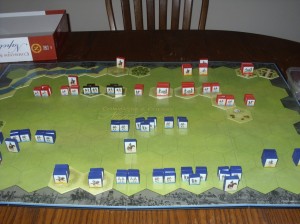 Napolenics has all the normal hallmarks of a C&C game, the cards, sections, Calvary, Infantry and Artillery. It also uses the blocks much like Ancients. Which is a pain because you need to sticker an endless number of blocks. It took me most of the day to get through everything and the dice which need to be stickered too. Although stickering everything annoys me, having to sticker the dice is a pet peeve of mine. Otherwise though the components are solid, and they give you plenty of extra stickers/blocks. The mapboard is solid, the cards are of a good paperstock and everything is of GMT expected quality.
The problem with the game, at least imho, is that it tries to do too much and isn't good at what it does. C&C is never going to be a simulation of an actual battle. Most people get that, and enjoy it because it's simple to play. But while the first few games of the series took periods which have both casual and hardcore elements, the Napolenic period tends to attract the more hardcore elements. Or it's just a period whose popularity isn't as high as either the Civil War or WW2 in North America, so those looking for games from the period tend to be a bit more well informed.
By saying that it tries to do too much, is that instead of just being infantry, you have multiple types of infantry, multiple types of Cav and two types of artillery. The problem is that each unit tends to have it's own rules, which then need to be cross referenced with the nation it's from. Not all the same infantry has the same number of blocks across all three (French, British and Spainish), making setup a bit of a pain in the ass. While firing will be dependent on how many squares you have, it also depends on if you have moved and nationality.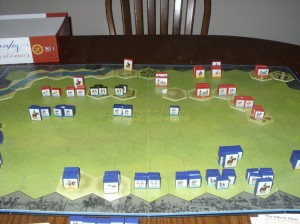 This is different from every C&C game that had come out so far. I think it really tends to slow down the game here, especially when the name of units can be so close. For example the British have "Rifle Light" and "Light" infantry, whose names are easy to confuse. Even worse is that the name themselves are very small on the bottom of the blocks, and the pictures tend to not really differentiate the types of units (infamously the horse artillery doesn't have horses on it).
I really think the C&C system is spread thin here. Your never going to turn a C&C game into a historical simulation. In trying to do so or even coming close they weighed down the game. Just as another example the game contains a reference sheet for terrain and another reference booklet (2 pages, front and back) for the units. For something that worked so well in the past, the simplicity of the game seems missing.
It still plays fast, and your still recommended to play both sides of a battle to find out a winner. You'll probably spend more time setting up then playing. Another little complaint is that I've always considered the Spanish/Portuguese battles to be a secondary theater when it came to the Napoleonic Wars. Yet the introductory battles that come with this game are almost overwhelmingly from Spain, and truthfully very few of them I had heard of before. Austerlitz is missing, there are no Italian battles, and the only battle I did know that was included was Waterloo. It's almost like making a Civil War game and not having any battles (or just Gettysburg) of the Eastern Theater.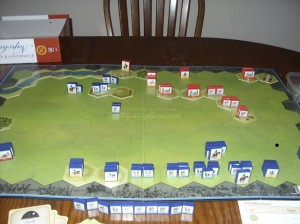 I really can't recommend the game unless your either a fan of the period, or a huge fan of C&C that is looking for something new. Everything in the C&C system has been done better before, and I've seen fan made Napolenic scenairos for Battlecry that were a lot simpler. I can't blame them for what they were trying to do, I just think if your the average C&C player and come into Napoleonic, you might be a little bit surprised.
By