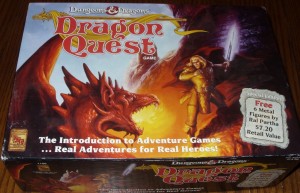 Ahhh Dragon Quest. Playing D&D Heroscape made me think of it, so I decided to play it again. Now I had complained that it was a pain setting up the Heroscape board, and it was. It probably didn't help that it was my first time dealing with Heroscape. Dragon Quest comes with a board much like Hero Quest, you add doors and whatnot to the already existing board in order to shape it out.
If you know anything about D&D, it's pretty much the AD&D (2nd edition) rules that existed at the time simplified. There are no levels, characters improve for every "adventure" finished. Warriors and the fighting classes improve their Fighting stat, Wizards, Clerics and Elves gain the ability to learn another spell. The fighting stat is used in combat, you minus your opponents armor class from your fighting stat and you have to roll higher then the result. If you hit you then roll your dice according to the weapon.
I always found it odd that the game made races as classes. Listed as classes are a Fighter, a Cleric and Wizard, but then they have Halfling, Dwarf and Elf as classes too. Since they expect people to eventually move on to the core D&D I don't understand why they didn't just have other classes that are in the core. There's also no rules to generate your own character, although the book does come with a blank character sheet. It wouldn't take too much work to create a character and just borrow the fighting scores from the included characters.
Cards, Cards, and more cards. This is where the game gets a tad obnoxious. Everything is on cards. Traps, Spells, Treasures, Enemies, Characters, Equipment all have their own decks. Although somewhat helpful for quick reference, unless your a bit of a sorting nut it is going to take a while to find all the cards you need. The Enemy deck for example is particularly large, nearly as big as the rest of the deck combined.
Outside of the minis mentioned on the cover (which come in plastic too) the rest of the pieces are all those A-Frame thick paper punchouts. Some of them gave me trouble since I had bought the game second hand and the previous owner had given them a beating. But they kind of make me wish I had more minis or sculpts to throw around the board and really flesh things out.
One thing I do love is that all the artwork on the cards is from other TSR projects at the time. Quite a bit of it is artwork from Dragonlance (which will throw you for a tizzy when you see Tanis is the generic Elf) and from the D&D collector cards (I had the complete set back in the day, and it's lost to time, so of course it's worth a fortune today). They do factor in as a game mechanic other then as quick reference sheets. For example when finding different items or springing different traps you would randomly draw a card from those decks. Unfortunately the random part is a bit hard as all cards have their name on the front, but it is a small typeface.
Another good thing is that the game comes with a good number of blank cards so you can create things to your heart's content. For me, that meant adding to the fighter only the greatest piece of equipment ever: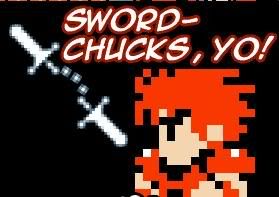 Which worked especially well given that the Fighter Mini was carrying two swords. The game also comes with a blank map so you can writeup your own adventures.
Sadly though I think after a while your characters would become a tad too uber due to the way levels work. So your limited on how long and how many adventures you could play with the same characters. Also the adventure book only comes with three adventures, although these are tied together. It does leave you with a feeling that the game is somewhat lacking. It wouldn't have taken them that much work to push out another handful of adventures. I guess they expect you to move on after the first handful of levels and play the full D&D.
I wouldn't recommend running out and buying Dragon Quest. It goes for 15-20 on ebay depending on shipping, and really there's probably better things you can spend your money on. It might be worth it though if you are in need of the board for other adventures. It's big and sturdy and appears able to take a beating. Or if you are like me and you love nostalgia and remember playing this alone in your dark room for hours. Now as an adult you can drag your friends out of hiding and force them to play this in exchange for going to their awful parties. Otherwise you might as well just buy some real D&D stuff, or even Castle Ravenloft.
Made another video, it's after the jump.
Continue reading 'A look at Dragon Quest by TSR'»
By