Look, maybe I'm a bit obsessive, but I can't stand Mike Milbury. Obviously if you've read this blog before you've heard his name mentioned a few times before. I've reviewed his bumbling of draft after draft, his waste of high draft picks and reviewed every trade he ever made. The guy made just about every mistake in the book, even if you excuse him for the trades he was forced to make to cut salary.
To make matters even worse, with the recent purchase of NBC by Comcast, the decision was made to move some of the NBC commentators to VS. God only knows why, considering that Comcast owns VS and bought out NBC, you would think replacing the NBC guys with VS guys would make more sense. So now Milbury is commentating on VS. Meaning every time I see his ugly mug I want to throw a loafer at the TV.
It wouldn't be a problem though if he didn't keep popping up EVERYWHERE. Now he's on NBC's Pro Hockey Talk. I actually enjoy it. I like most of the writers and they keep it short and simple. There's just one little problem, on every page you get to see this picture: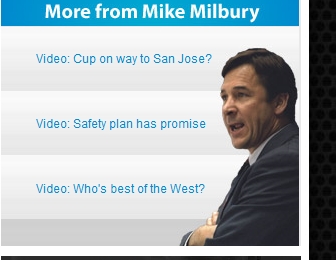 First off one of his columns as I searched the site for his name (they don't have a column with all his videos in one place) is called "Ask The Expert" May I dare ask what Milbury is an expert on? He was a marginal defenseman on a good team who clutched and grabbed when he couldn't legally stop better players. His most famous on ice moment? Going into the crowd and beating a fan with the fans own loafer. He coached a great Boston team (an early Bruce Bordeau?) to two good seasons before taking the Assistant GM job and then moving on to destroy the Islanders. Quite the Expert.
Even worse is that his partner in crime in a lot of these videos is much maligned Pierre McGuire. Even my roommate who is much more of a casual fan (and we don't watch games together because she's a Flyer fan and I'm an Isles fan) then me hates all the NBC guys. Without me even prodding her about it one night she went into a 5 minute rant because the Flyers game was on NBC instead of Comcast Sports Net Philly. The NBC analysts (except for Roenick, who I enjoy) talk down to hockey fans, taking the time to explain such complicated ideas as Icing and Offsides. Plus it's obvious that Milbury has absolutely no connection to this generation of hockey players.
To piss me off even more, one of the first times I saw that Milbury had a video anywhere, it was him and McGuire bashing the Islanders for going too far against the Penguins. Yes, that's right the guy who ran into the crowd after a game at MSG said that the Islanders went too far. Let's not forget this is someone who forced the league to change how it picked All Star teams after he loaded the team up with Goons.
I'm going to beg now. Please Milbury, say something so insane or so offensive without realizing it that you get fired. You say so many stupid things, one of these days you have to say something so insensitive that the networks dump your ass. Plus why does NBC hire the dumbest former managers? Also working on the football side of things for them is Matt Millen of all people. Go say Matt Millen in Detroit and see how quickly you get stabbed.
By