I've talked about No Greater Glory a few times before. To me it is one of the best and toughest Grand Strategy Civil War games to ever come out. It was an amazing cross between simplicity hiding a deep system. Ed Bever was the developer, he was not only a wargamer himself, but a long time collaborator with Sid Meier at Micropose before they sucked. No Greater Glory is actually the second game by Bever published by SSI. Revolution `76 predated NGG, and if you play NGG playing Rev 76 is relatively easy. It makes you wonder what might have been if they continued the series, as the game does an amazing job balancing internal strife, external strife, behind the scenes politicking, supplies and even infrastructure.
Unfortunately the manual to No Greater Glory seems to be lost to time, and even worse the manual wasn't much help. At least what I can remember about the manual, it's been over a decade since I owned it. So I figured I'd put together this guide to help out new players and explain exactly WTF is going on. So let's go: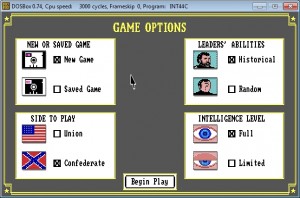 Most of this is self explanatory. The big ones your going to want to make sure are set for your first few games are Intelligence level to Full and Leaders to Historical. This allows you to see exactly how many troops the opposing side has, and insure that the leaders act like their historical counterparts.  Changing the Intelligence level really makes the game tough. The non-historical leaders aren't as big a problem.
Then you start the game and you get this screen, and you wonder "Is this a wargame?" and yes, yes it is. You need to select your Cabinet, which consists of the Secretaries of State (Foreign Relations) War, Navy, Treasury and Attorney General (internal security). Click the corresponding button at the bottom and click the portrait to appoint someone.
Going Clockwise around each portrait, starting at the Light bulb:
Light Bulb = Ability the higher the better.
Empty Box = Will contain the initial of current position (either cabinet or foreign envoy)
Number Box = Loyalty, will go up if appointed, down if removed.
Letter M/R = Party, either Moderate or Radical
Map = Where their home region is.
It's not just a matter of appointing the best guy to each position. You not only have to spread out positions according to regions, but you need to also balance appointments between parties. You'll be informed before your allowed to advance if you slight either party or one of the regions. If you do continue and slight the region or party you will lose support. This is more dangerous with regions (I'll explain later) then parties, but you should always balance out cabinet selections just to make life easier. Also later in the game you will select 3 envoys, so the side that gets slighted in cabinet positions will expect to be rewarded with envoy positions.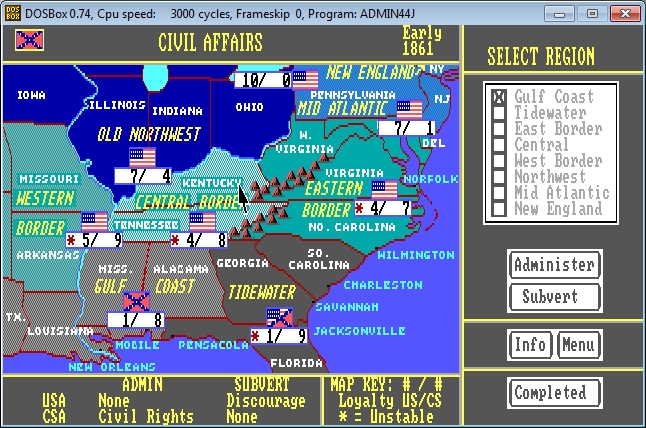 This is going to be the main map screen you deal with across multiple game segments. Each region is color coded, if the flag is just the Union Flag, they control all cities in that area. If the flag is just the Confederate flag, they control all cities in that area. If both flags are there, both sides have cities in that region. The game starts just as Virginia, Tennessee, North Carolina and Arkansas are still in the Union but on the eve of leaving. Underneath each flag is current loyalty.  The left number is the Union Loyalty, the right number is the Confederate Loyalty. These can go up and down depending on multiple conditions.
You can select a region and select to either Administer it or Subvert it or both. Here are the screens:
Administer allows you to set how you treat people under your control. The Union has to balance this a lot more then the CSA. Each level of administering will give you a bit of a bump, as long as you don't make a huge jump from respect civil rights to Declare martial law. You can't set your administration if  you control a city in that region. So the CSA can't administer Old Northwest at the very beginning. But if you capture Cario, you can set it.
The Subvert Options: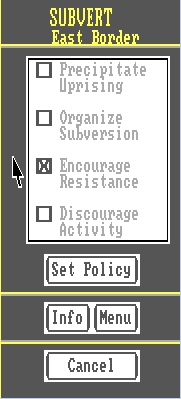 This is the same as the Administration, but the opposite way. As the other side starts losing loyalty you want to start subverting their regions more. But if your so far behind in popularity, it might actually help the other side. The CSA starts out the game wanting to Precipitate Uprisings in the East/Center/West border regions in order to insure that the border states leave the Union. Just like Administrating, it's a delicate balance between causing revolts and keeping them from running back to the other side.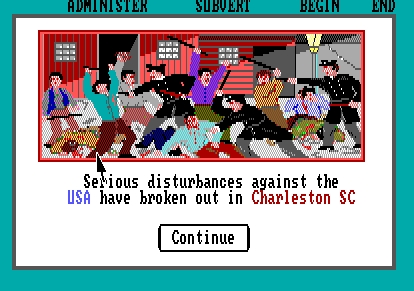 You'll get reports about any disturbances in different cities. The repercussion of these is that you can't recruit in those cities or get supplies. This starts to really hurt when you have to move more and more goods from further back in the lines. You'll also get a complete report of how the loyalties have gone up and down in each region but I forgot to screen cap it. This screen will also inform you of any successions.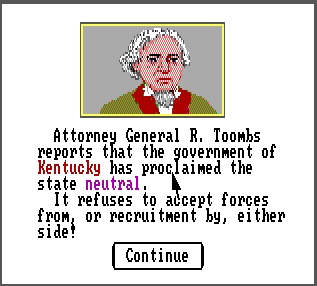 You'll get this message before you start the next screen. Realize that doing anything to break Kentucky's neutrality will cause them to join the other side. That means recruiting, or moving troops into either city in Kentucky.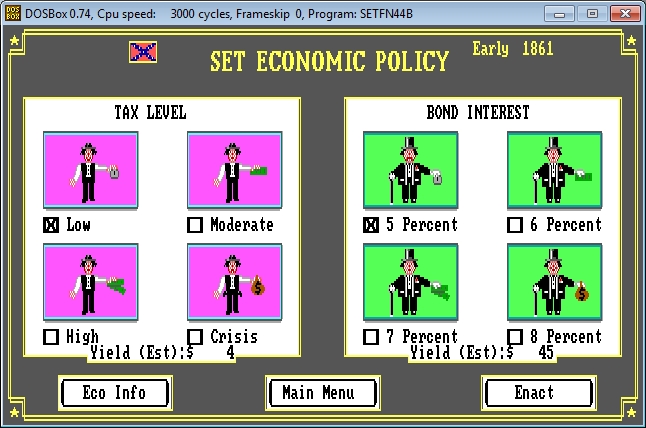 This is the economic policy.  You can always raise the Bond interest, but raise it slowly over time or else you'll run out of cash quickly. Raising taxes requires checking with Congress.  But if you fail to raise taxes, it won't hurt your standing. So always try to raise taxes to the next level every season.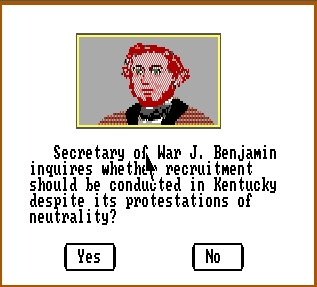 You always want to say No to this. Saying Yes will cause Kentucky to switch sides.
First off, changing the Recruitment policy needs to be approved by Congress. If you fail to pass it, you WILL suffer some popularity loss. Fortunately you will be informed if it looks like it will pass or not before you set policy. You always want Supply Production to be at least 100% to insure you are feeding all your troops. This is easy for the Union, but don't overdo it as the Union as supplies will rot. This is tougher for the CSA as sometimes you just won't be able to get 100% supply.
Infrastructure is of the utmost importance. You should always spend the max, especially as the CSA. The more rails you have the more supplies and troops you can move. If troops aren't fed well they will not only suffer attrition, but they might upset the locals and cost you extra money raiding the locals for supplies.
Naval Building I always max out my Build Capacity (on the bottom) for each type. I take the reasoning that it's a war, and your going to have to go into debt to win it. Plus as the Confederacy if you get Foreign recognition you also get loans to stop the inflation bleeding. Inflation will erode support for you too.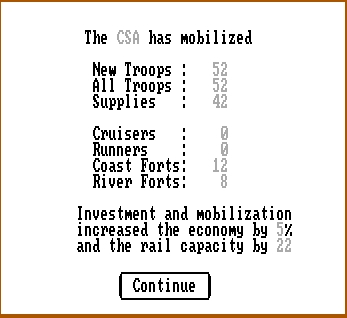 Following that you get a summary of how everything you did.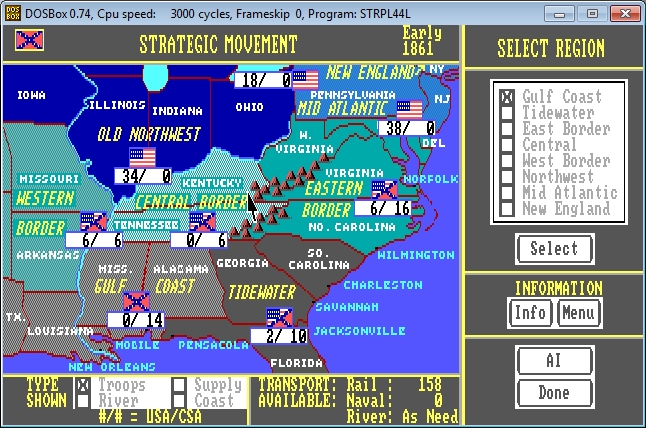 This is your next map, the strategic map. Underneath each flag is the number of troops for each side in that region. you can also change what is being shown via the box in the bottom left. This will give you a quick idea of where supplies shortfalls and windfalls are. Next to the supply box is Transport available. The CSA will never have Naval Transport, which allows the Union to strike from NYC to Pensacola for example. Both sides have unlimited River transport IF THEY CONTROL THE RIVER, you will get a warning if you don't. Rivers are bright blue on the zoomed in region map. The CSA though can not move troops via river though, only supplies. Finally you have Rail. Moving 2 troops (without supplies) between adjacent cities uses 2 Rails. So if you move them with 2 supplies it takes 4 rails. Now you see the importance of using the Rivers when possible as the CSA.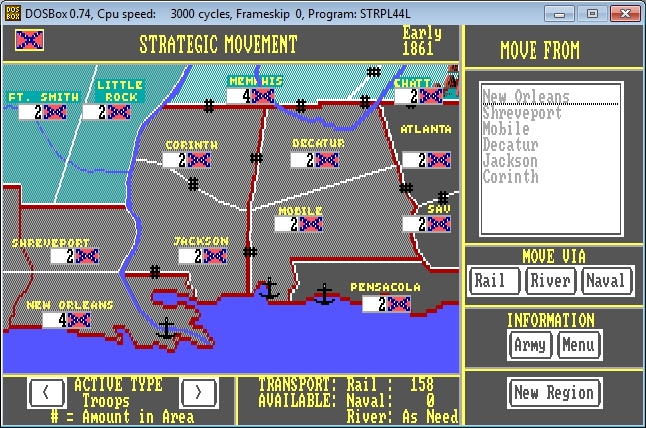 This is the zoomed in Gulf Coast region. Anchors are Ports that can be attacked via Naval move by the Union. The blue lines are rivers and allow River movement between them (like Chattanooga to Decatur) as long as both ends are controlled by the same side.  Taking Jackson as an Example, you can move troops and Supplies via Rail to Mobile, Corinth and New Orleans, but not Shreveport. From Mobile as another example you can move troops via Rail only to Jackson and Atlanta. The Union has less trouble as not only do they have a greater number of Rail Movements, but a more complete Rail Net.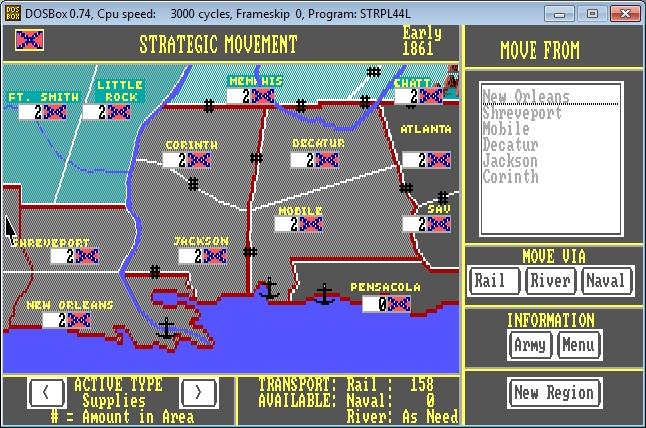 This is the same map, but with the viewing type switched to Supplies via the bottom left box. For example you'll see that New Orleans which had 4 troops only has 2 supplies. If you don't fix that they might suffer both attrition, annoy the locals by collecting supplies and paying a premium for those supplies.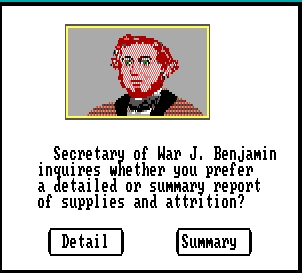 When your done you get an option of the report. Detail will tell you exactly which armies struggled and how much, Summary will just tell you everything.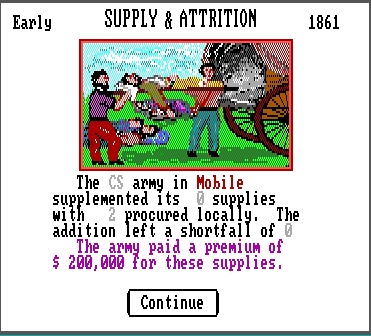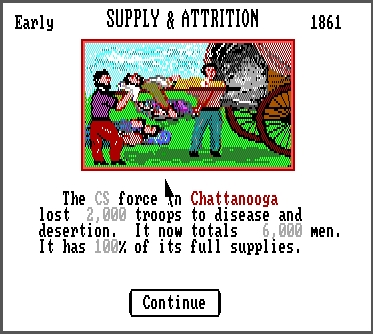 These are the two screens for Detailed views as compared to the Summary for what happened via lack of supplies and attrition.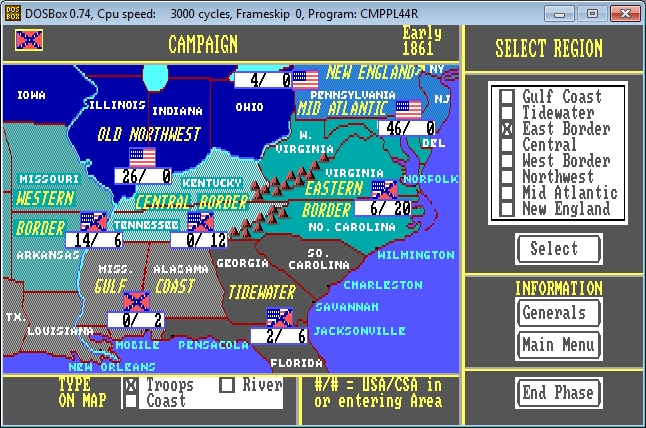 Now you get the Strategic overview of the map. IF the Union had sent a Naval invasion of the South, it would appear on this map (and the region map) as an arrow pointing towards a port. Once again you can tell the numbers on each side in each region via the numbers below the flags. Union on the Left, CSA on the Right.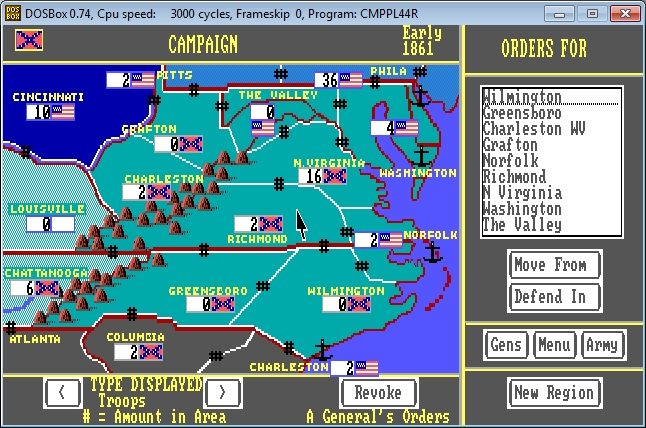 This is the map when you zoom into a region. Now you can move troops from any city to an Adjacent city as long as you have a general to lead them.
Now when you select somewhere to move from (in this example, N Virginia) it gives you a list of where you can move. Just for giggles we're going to pick Washington DC. You are then given an option of how many troops to send forward. Now if you send all your troops, you can be cutoff if opposition troops move into where your leaving from. You don't retreat until ALL battles are done, and generals will ALWAYS advance into cities without troops defending it. Finally you pick a general to lead the attack (or to defend a city).
There's something you need to understand though, each general comes from a different region and has a different level of prestige. If you click on the AllGeneral list you'll get this: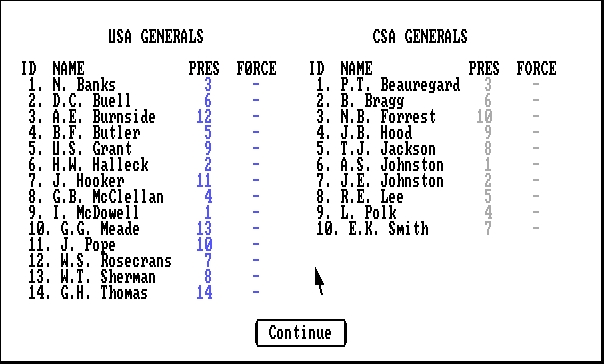 The number in the prestige column is their prestige ranking. So to begin the game AS Johnston has the highest prestige for the CSA while Irvin McDowell has the highest for the USA. They will each expect to be commanding the largest army on the field. The 2nd highest (Halleck and J.E. Johnston) will expect the 2nd largest command and so on. That means it is possible for a general to win a bunch of small battles and suddenly want to command a bigger army, much like Pope did.
If you don't line up the generals right, you'll get the following warnings: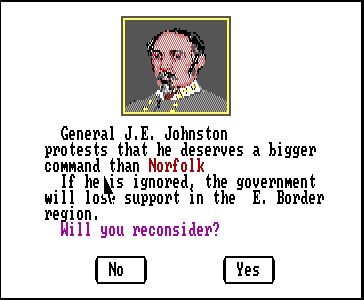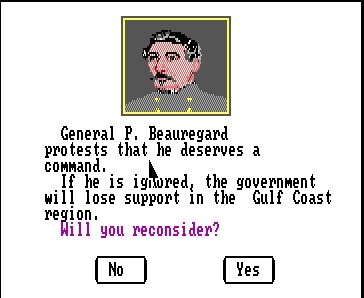 If you click Yes, you will be able to go back and re-arrange who is in command where. Also you can remove any general from a command via the Revoke button which is on the bottom bar when you zoom in on a region. Making sure generals are happy is extremely important, as they seem to cause the biggest hits to regional loyalty.
Another important thing are the armies themselves, which you can view by highlighting a city and clicking the Army button to get the following: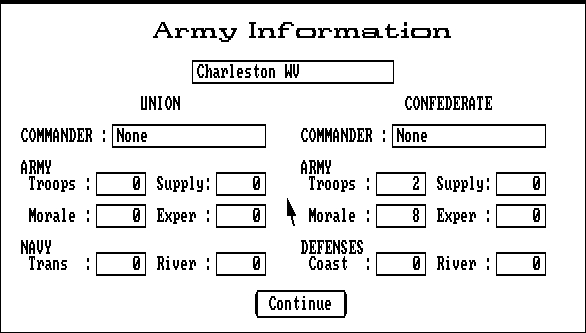 Most important on this screen is Experience, which is listed next to Morale. Some Generals will refuse to move their troops if they aren't experienced enough. You gain experience by fighting battles and having troops stand around with a general in charge of them. But you will lose some of that if you continually combine new troops with experienced troops. So you might want to make a decision (especially as the Union) on a max number of troops to hold in any spot, and then an adjacent spot where troops will be constantly training. The only time a leader won't refuse to move forward due to experience is if there are no opposing troops.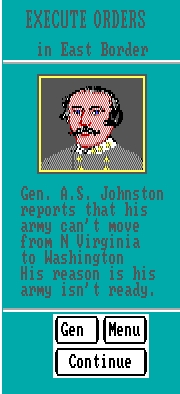 That's the scene you'll get.
If you assign a general to just Defend a spot, these will be your choices. I think they are pretty self-explanatory: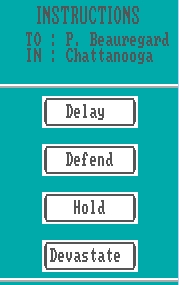 If you attack, you have 4 different options which I couldn't get a screenshot of. Those options are Raid, Plunder, Attack, Conquest. Raid is an option if you just want to attack someone larger but keep them from moving their whole force in a direction. Plunder will ruin the industry for an area. North Virginia tends to get plundered a lot, meaning you need to ship up Supplies from NC  to feed the ANV.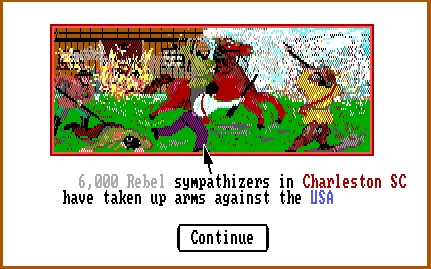 If you've really upset people (Norfolk and Charleston always get an uprising on Turn 1 as they begin in control of the Union) you can get an uprising. That makes it extremely important to not move EVERYONE to the front, especially if you start losing popularity in a region. Also important to note that Sympathizers and Militia will show up depending on where the battle is taking place. So if you attack Chicago, you aren't going to be facing just the 20,000 troops there, but also another possible 6-10K militia/sympathizers.
These are the victory scenes for each side following a battle. If you select Detail you see this screen: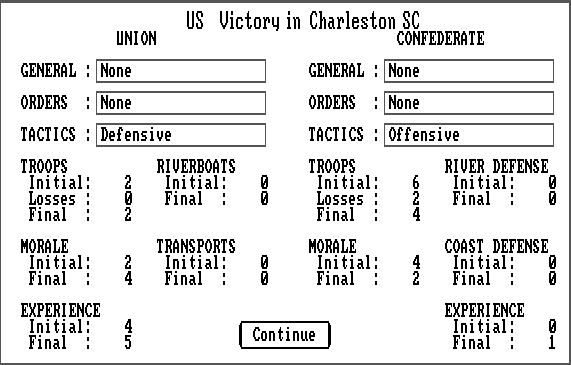 While neither side had a General or an order in this battle, if they are there you get to see what each side was trying to do. You can also see the experience gain and the Morale Gain/Loss depending on what side you are on. The Union probably won this because of the superiority in Experience.
When all battles and movements are done, you get the option of where retreating troops can go: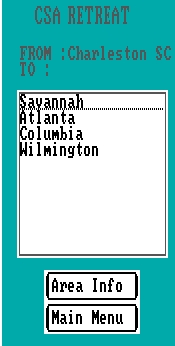 This is a retreat from Charleston, you can retreat to any friendly cities. If there are none, you will be forced to surrender, which isn't good.
Once retreats are done, you enter the Foreign Policy phrase, which starts with this message for the CSA: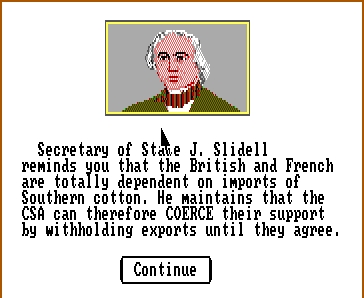 BTW the Union should never Coerce, as it will immediately end the game with a victory for the CSA as the French and English declare intervention.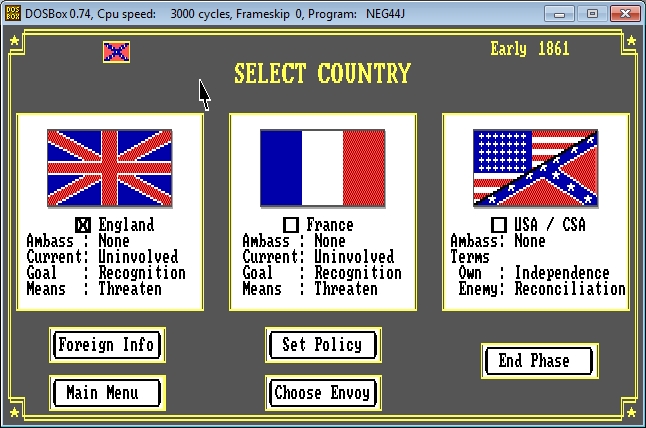 This is the Foreign Policy screen. Clicking Set Policy will bring you to the following screen for either England or France (don't bother with the US/CS relations really)
If your the CSA you want Intervention, but you should start at Recognition and move it up when you get that far. As the Union you want Uninvolved. Entice/Threaten aren't that bad. Bribe is a double edged sword, and if your the CSA you really can't afford it. If it comes out that you are bribing diplomats it will hurt your standing. Coerce is a good choice for the CSA, but WILL END the war for the Union as France and England will not take kindly to it. Finally you need an envoy, and you get this screen: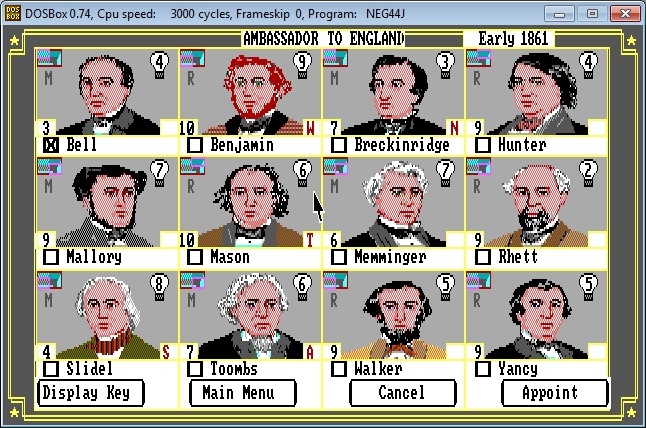 Yep, it's pretty much the Cabinet guide again. You once again need to balance regional choices with choices from the Moderate and Radical parties. You also can't change someone who is an Envoy while at the Cabinet screen, and you can't change a cabinet member at the envoy screen. Remember that.
I should note that while you will sometimes get reports that someone is corrupt/incompetent/causing trouble, you don't actually have to totally remove him. To make life easier just shift everyone around. The French dislike someone? Switch him and the US Envoy. That way you don't have to go nuts trying to balance everyone just right. The same goes for the Cabinet, the usefulness of the Navy/State/Attorney General aren't high enough that you can't put someone questionable in. The important positions are War and Treasury, put your best guys there.
Finally you get the tri-annual report: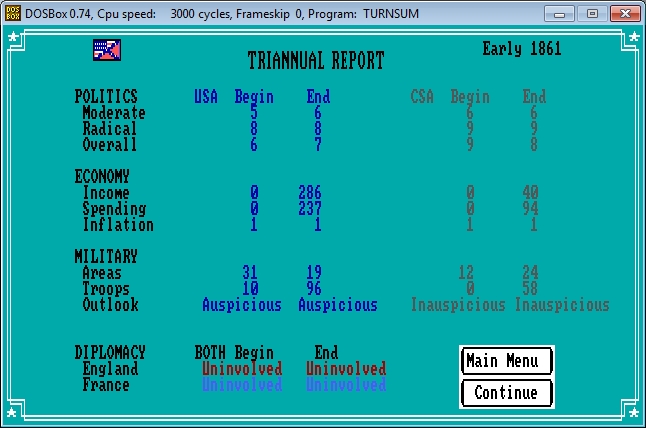 Your Outlook seems to have the biggest pull when it comes to getting foreign powers involved. But don't underestimate losing political support.
And that's the first year. Some things I didn't touch on but I am going to make a quick note of:
After Turn 1 the CSA gets to move their capital anywhere. I find Richmond or Atlanta are the best choices.
The North will get the option to free the Slaves. Don't rush it or you might lose more support in the Northwest then you gain elsewhere.
I've seen people say that it's better to just take Kentucky. Unfortunately finding 2 Generals that early to move at the same time so you can take both Kentucky Cities is tough.
Try, Try and Try Again, this game is insanely tough even at the lower levels.
As the Confederates, your best bet is to attack, attack, attack, even if it seems like suicide. A great General and experienced troops can surprise.
During the strategic phase the Union can send out a Naval Invasion. Taking ports is important to the blockade effectiveness (and southern supplies). You can't revoke orders from a General that is out on a Naval Invasion, but he also can't refuse to attack. If you do take a port, keep it well supplied and reinforced.
Sometimes you have to give a poor general important commands due to prestige, you have to grin and bear it.
Don't underestimate the importance of causing riots in the Old Northwest. It means the Union has to spend a lot of rail points sending troops and supplies instead of home grown replacements.
Plunder a lot as the Union, especially on the front lines as it causes the CSA to have to use its bruised and battered rail network to send more supplies north.
Well I think this is the most comprehensive guide to No Greater Glory online right now. I recommend going out, finding yourself a copy (cough home of the underdogs cough) and giving it a go (dosbox too). I still say it's the best Grand Strategy game made about the Civil War even 20 years later. Ed Bever, you made a masterpiece.
By