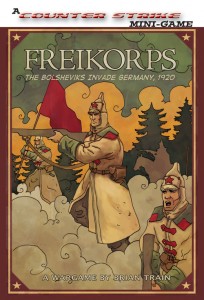 Freikorps is a strategic war game based on an Alternate History in which the Soviets defeat Poland following the Russian Civil War. The Soviets decide to press on and spread the Revolution into Germany. The game map is Poland (From Warsaw west) to Germany (ending at Berlin/Dresden). The German Army not being much of a fighting force, the Freikorps takes up the banner to stop the Bolshevik Hordes. Helping them (at least in the base game) are the Entente (France, England, US) and Polish National Army under Pilsudski. The Soviets are the Red Army, the Konarmiya, German Spartacus Militia and the Polish Red Army.
The game plays quickly once you get rolling. Some rules are tough to remember (each force has a different Cadre level, having a higher cadre level in battle means a column shift) but it isn't a game breaking deal. The random events at the start of every turn can really turn the game around. On the 2nd turn the Soviets had to send 6 Brigades back to fight Wrangel. On the next two turns German towns went into revolt, destroying the Freikorps morale. The back breaker was the US withdrawal from the war as their units were defending the flank of the Freikorps making a stand against the Konarmiya trying to cross that way. It also didn't help that nearly all the Freikorps depending the center of the map took a pounding from the main part of the steamroller, and the Polish National Army was crushed.
For what it usually costs, I can definitely recommend picking up Freikorps. It does a good job of recreating InterWar warfare. I would also love to see the system transferred to North America, to create a game based on the Turtledove Southern Victory series. A few tweaks for the trenches in the eastern theater, and the west tends to really play like the wide open plains of Germany/Poland. I've heard people bash these games because they are cheap, but they definitely aren't poor. I wouldn't recommend a bad game just because it had a good price. This game is worth every penny.

Continue reading 'Freikorps Review'»
By