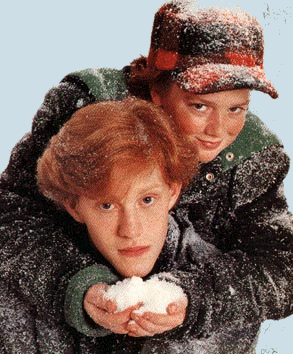 In the mid 90s Nickelodeon had a run of great/silly shows. Among them were Welcome Freshman, Hey Dude and Clarissa Explains It All. But one show stood out amongst them all, The Adventures of Pete And Pete. I'm surprised that Pete & Pete doesn't get aired in reruns anywhere today. There's a lot of shows which I've forgotten even existed or that I was a fan of and forced my parents to buy a ton of pointless toys for. But Pete & Pete has a special place in my memories. Which might be sort of sad, considering I was 12-15ish at the time.  It always amazes me when I run into people who never even heard of this incredible show. The lack of reruns means that in time it'll unfortunately be forgotten.
In case you've never heard of the show, it stars Older Pete and Younger Pete two brothers growing up in Wellsville a town whose true location is never given. The rest of the family include their Mom (and her Metal Plate) and Dad. Oh and I don't want to forget Petunia, younger Pete's tattoo. Although some episodes come off as Pete or Pete Vs his parents, in the end you know that they all love each other. Meanwhile the dad can be quiet a doofus, it's never to the level that the Simpsons or Family Guy go with Homer and Peter. Although not your regular family, they are as happy as any Nuclear Age family.
There are neighborhood friends of the Petes. Ellen is Older Pete's friend and a girl, but not his girlfriend. Artie, The Strongest Man In The World,who is Younger Pete's own personal superhero. Ellen comes across as an average girl and a close friend. Although there is some drama between them, it is always more as drama between friends. It's no different then drama between any of his friends or even between him and Younger Pete. Even more incredible is that Ellen's dad, Phil Hickle, is played by Steve Buscemi. Artie, The Strongest Man In The World, is beyond description for the most part. From the way he walks, to his name for Young Pete (My Little Viking) and some of his powers (moving a house one inch) he is beyond definition if you have never seen an episode. Even his outfit (a 40/60 Titanium and Poly Blend) which gives him his powers is something you have to see yourself: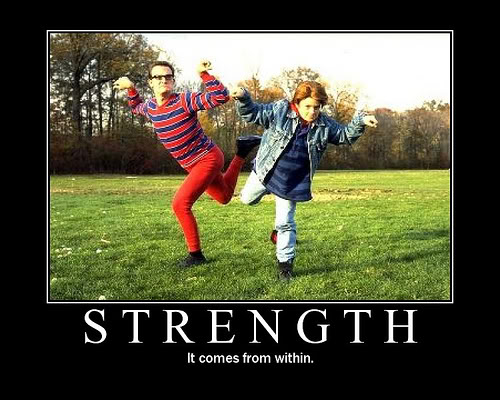 In case you couldn't tell from the Superhero, Pete's Tattoo, Mom's Plate, both brothers being named Pete, the show tended to be a tad surreal. Some of the best episodes that I can remember:
What we did on our Summer Vacation: The Petes and Ellen get obsessed with becoming friends with Mr Tastee after finding photos of him on vacation with his Ice Cream head on
Space, Geeks and Johnny Unitas: Older Pete and Ellen decide to search of extraterrestrial life based around the idea that the TV Broadcast from the 1958 NFL Championship game was just reaching far away galaxies. Also guest appearance from the great Art Donovan. If you know Art Donovan, yes, he does in general seem confused.
Day Of The Dot: Ellen and Older Pete are in the school marching band going to the state championships. Ellen takes it to seriously and falls in with a different crowd. Meanwhile Younger Pete has to deal with the Bus Driver whose decided to take the kids on a daily 2 hour tour of him and his exes favorite spots.
Sick Day: Young Pete plays sick, gets an Eisenhower cereal piece stuck up his noise and at the end of the day has to race back home before his parents get home. Oh and he runs into a loony meter man (Chris Elliot) and one of the teachers is LL Cool J.
Micheal Stripe makes an appearance in Summer Vacation. Iggy Pop is a recurring guest as the father of one of Younger Pete's friends. Now that I'm a bit older and actually know who a lot of these people are. Most of them were 70s and 80s non-mainstream musicians (as if Iggy Pop being in the show didn't give it away).
The incredible thing about Pete & Pete though was that it never sugar coated anything. There were ups and downs during the show, you were never sure that there would be a happy ending. You learned stuff not because you were being spoon fed, but as part of your own conclusions. The show never talked down to you, and even as an adult I can still enjoy the show today. But it didn't exist just to give moral lessons, or to try and sell you merchandise. It felt as though you were being told a story that you could be a part of. Even with the surrealness and the oddities, Pete and Pete were like two friends from just around the corner and down the block.
Maybe it's nostalgia, but TV shows can learn a lot from Pete & Pete. There's more to being a TV show then cramming some morale lesson down your fans throat while being little more then a 22 minute commercial. Without Pete & Pete, I'd probably be a markedly different person then who I am today. There were a lot of lessons that I didn't even realize growing up, which appear only if you really pay attention. It's sad that this show is just sitting in mothballs somewhere. You would think with all the TV Channels that Viacom owns (about half of them) they could find somewhere to squeeze in Pete & Pete. Today's youth is missing out and instead are being used like consumers at the trow. And if you ever watch a TV show that tried to teach a lesson, it's so unbelievably heavy handed that it insults people who are watching.
By