It's amazing that Curtis Martin is not a Hall of Famer already. But then again, maybe it isn't. I have never heard a bad word about Curtis Martin. Never has a player come forward to bash him. Never has a coach complained about him. Never has he been in the tabloids for causing trouble during the offseason. An impeccable team mate in almost every way, Martin was the strong silent type for his career. Unfortunately an NFL player actually being a standout human being isn't a good story for the writers. It's easier to write articles when you have a Terrell Owens, a Chad Johnson or a Deion Sanders around who will never shutup.
Curtis Martin is 4th all time in Rushing Yards, is only the second RB to ever start his career with 10 consecutive 1000 yard seasons (Barry Sanders is the other) and was one of the toughest players of his era. He played through injury after injury and only in his final season did he finally show the effects. But at that point he knew enough that it was time to hang it up, and didn't try to hang around longer then he should have (cough Shaun Alexander, Emmit Smith, Terrell Davis cough) and make a mockery out of himself.
In 2002 he should have missed 7-10 weeks due to ankle injuries, but instead let's quote him
"My ankles were the size of your head," he said. "It was the most pain I've been in. I had to dig deeper than I ever had to just to play."
He played through another season even though he had a ligament tearing away from his ass bone. He played two consecutive seasons with torn knee ligaments. I challenge you to look at his year to year rush totals and try to figure out which years he was struggling through injuries.
Curtis Martin came over with Parcells, with the Pats saying they could replace Martin with a first round pick. Instead the Pats struggled at the RB position until adding Corey Dillon to the mix. Martin meanwhile was the cornerstone of the Jets, one of the big reasons they had a winning record during his time with them. It should be noted that Martin never had a "great" QB to help him out. Vinny Testervarde, Chad Pennington, Rick Mirer, Ray Lucas, Brooks Bollinger aren't exactly murders row. Neither were WRs that great, with Keyshawn Johnson, Wayne Chrebet, Coles and Santana Moss being the most notable names on the list. Year in, Year out Martin produced while the Jets won some and lost some.
For almost a decade Curtis Martin was the one recurring player/person in the Jets. He survived multiple head coaches, multiple QBs and kept on running. During his time (and disregarding his final season) the Jets only finished below .500 once. In the decade before he joined the Jets they finished below .500 7 times. The Jets hadn't had a 10 win season since 1986. During his time with the Jets they finished with 10 wins or more 3 times.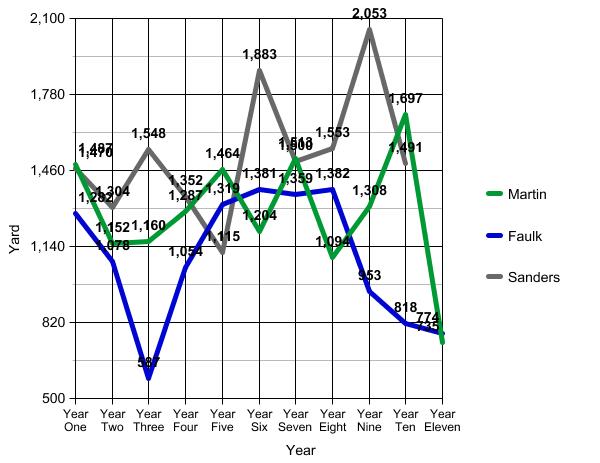 Obviously Barry Sanders is a Hall of Famer. Faulk just made the Hall of Fame over Martin. Faulk and Martin entered a year apart (Faulk was from the 94 Draft, Martin the 95) and a mile apart (Faulk was the 2nd overall pick, Martin was taken in the 3rd round. Sanders was taken in the 89 Draft . So Faulk had a great run of 4 years, but those years were with the rams and probable Hall of Famers QB Kurt Warner, WR Isaac Bruce along with Torry Holt, Ricky Proehl and Az-Hakim. Anyone could have put up insane numbers in that offense. Teams were stretched to the breaking point just trying to cover those Receivers, so when Faulk ran it was usually against defenses trying to stop the pass.
If your going to argue that Faulk was a great receiver and point to his yards from scrimmage, once again he was usually the 4th or 5th receiver and even when covered out of the backfield it was commonly an overwhelmed linebacker. Faulk was only good when he had everything going for him.
The biggest falling of Curtis Martin seems to be that he didn't market himself. And that itself resonates with the failings of the selections to the Hall of Fame. Because Martin didn't run around screaming from the rooftops how great he is, how everyone else is horrible, and instead was a workhorse day in and day out. The amazing thing is these writers will bash the egotism of guys like Owens, and then reward them with first ballot tickets into the Hall of Fame. But a guy who is good in every respect like Curtis Martin has to sit and wait, it's a shame and disrespectful.
By