Yea, remember my last post in which I mentioned that the Islanders were fighting for the 8th seed, but I was going to make some changes due to really poor play. At the time they had 18 wins at 42 games. They finished the season with 25 wins. So that change might not have worked out too well. I also wasn't helped by Okposo getting hurt a few games after that update either. The Islanders finished with the first overall pick again, but this draft class isn't exactly pretty: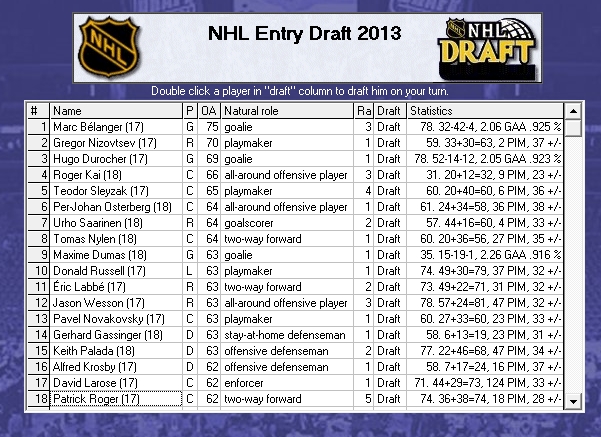 Goalies, Centers and Right Wings. Exactly what I don't need. Just for reference not only do I have DP (80 OV) but Mikko (72 OV) Poulin (71 OV) Rosen (68 OV) AND Elias who is a Czech youngster that I drafted in the 3rd round as a replacement for when Poulin got called up. He didn't have to be good, but he's lighting stuff up in every tournament that he plays. I'll probably end up drafting that goalie first overall and pulling a Milbury because he's too good to pass up.
So now that we know how horrible the Islanders did, let's take a look at the Playoffs: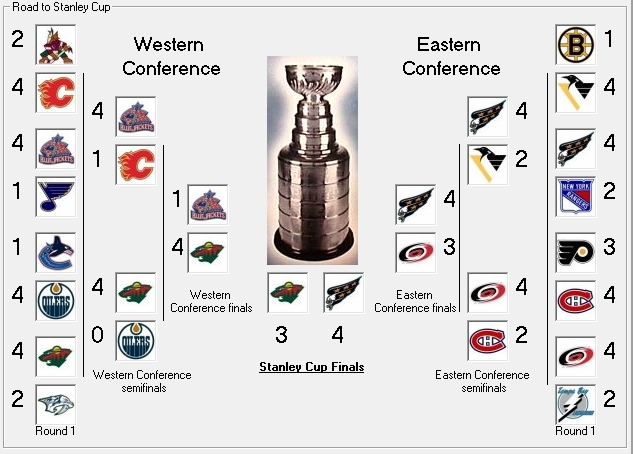 A 7 game series between the Wild and the Capitals. While I can see the NHL and NBC offices flipping out, it would go down as one of the all time great series. The whole series went back and forth with the Caps being up 3-2 in game 6 and the Wild coming from behind to win it. Then game 7, well let me just show you: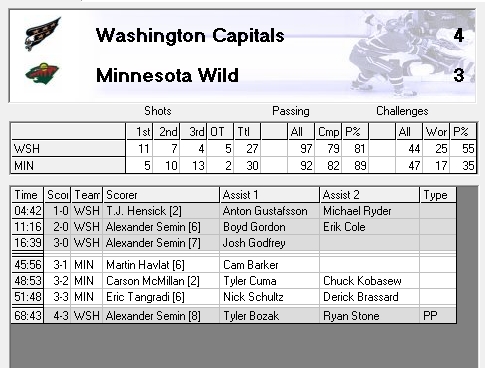 Just amazing that Minnesota fights all the way back, only to be beaten in OT by Semin finishing off his hat trick. That would be one for the ages. Also amusing? Some of the Awards handed out: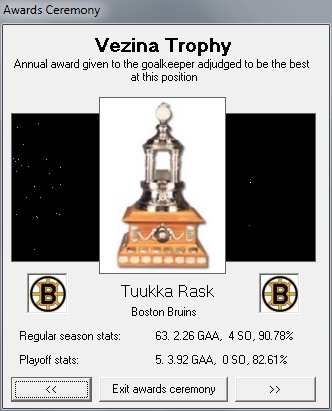 Good to see Rask is continuing in the Tim Thomas tradition of disappearing once the playoffs roll around. Even funnier though is the Selke winner: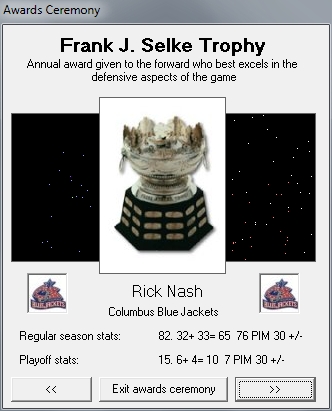 Yes, Rick Nash, well known for his defensive prowess wins the Selke, I couldn't stop laughing at this one
So the main problem seems to be that every one of the prospects given to me when I started suck: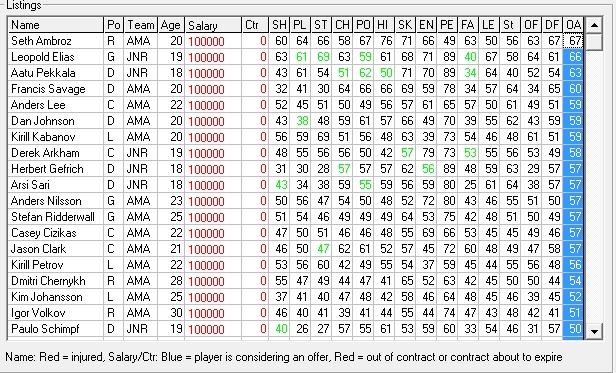 The top 4 names on the list are guys that I have drafted. Meanwhile BP is tough to get into, but basically has a bunch of career AHL lifers who are relatively young but have probably hit their ceilings: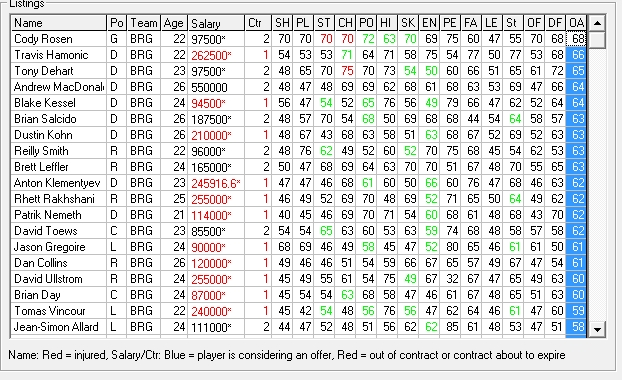 We have a bunch of middling Defenseman and no standouts, although DeHart probably deserves a shot next year given the horrible year Katic had in the NHL. Also my BP forwards are so bad that only 2 players had over 20 points (Reilly Smith and Corey Trivino) not only that but Marcinko who was promoted to the NHL was the 5th leading points getter with only 37 games and 20 points. So here's the full stats of the year, followed by my thoughts on FA.
The Calendar for the year
The Calendar for the Playoffs
The New York Islander Stats
Last Years Stats
The Bridgeport Stats
Last Years Stats
Pro Stats
Mighty Ducks
Thrashers
Bruins
Sabres
Hurricanes
BlueJackets
Flames
Blackhawks
Avalanche
Stars
Red Wings
Oilers
Panthers
Kings
Wild
Avalanche
Canadiens
Predators
Devils
Rangers
Flyers
Coyotes
Penguins
Sharks
Blues
Lightning
Maple Leafs
Canucks
Capitals
Farm Stats
Albany River Rats
Chicago Wolves
Cincinatti Mighty Ducks
Cleveland Barons
Detroit Vipers
Grand Rapid Griffins
Hamiliton Bulldogs
Hershey Bears
Hartford Wolfpack
Houston Aeros
KC Blades
Louisville Panthers
Lowell Lock Monsters
Manitoba Moose
Miluwalkee Admirals
Manchester Monarchs
Norfolk Admirals
Philly Phantoms
Portland Pirates
Providence Bruins
Quebec Citadels
Rochester Americans
St Johns Flames
St Johns Maple Leafs
Springfield Falcons
Syracuse Crunch
Utah Grizzlies
WB Penguins
Worcester IceCats
Playoff Stats
Wild
Flames
Predators
Oilers
Coyotes
BlueJackets
Canucks
Blues
Bruins
Hurricanes
Flyers
Rangers
Capitals
Lightning
Penguins
Canadians
The End of Year Standings
The Scoring Leaders
The Playoff Scoring Leaders
I've demoted Festiov who was head coach to Assistant Coach on the farm with Cappy and Bingham. Here's the upcoming free agents and my opinions:
Robin Figren: Sign, he did just good enough to end the season to get another chance to repeat his near-Calder last year
Calvin De Haan: Sign, but possibly Demote. Just not steady enough, might be replaced with Dehart
Ryan Reaves: Was a plus 3 in almost 40 games, but not good enough to stick around
Mark Streit: End of the line for the 35 year old 71 OV captain. Time for some fresh blood.
Kyle Okposo: Keep
Kevin Poulin: Keep
Robbie Schremp: Wow, what a mistake keeping him  around was. Went from 63 to 33 to 10 points.
Farm Team:
Blake Kessel: One more season to try
Patrik Nemeth: Too young to give up on
David Ullstrom: Out the Door
Travis Harmonic: See Nemeth
Anton Klementyev, Rhett Rakhshani, Dan Collins: time to give up, will never be an NHL'er
Tomas Vincour: Tempted to give up, but one more season just because we got him for Gervais
Jason Gregoire: Depends on our positional depth
Dustin Kohn, Shane Sims: Too Old, out the door. Might keep Sims for Depth.
Brian Day: One more year at least.
I am going to try to trade DP for anything and probably take that goalie first overall. I might try trading Poulin or Mikko too. So we'd have a rotation of Poulin/Rookie in the NHL and anyone/Rosen in the AHL.
Wonder what happened to Gervais? He played 20 games with the Stars, then signed a new deal with St Louis, who basically kept him in Worcester.
And Grabner? The poor guy just can't seem to get any playing time anywhere. I'm thinking of trading for him (breaking my rules not to trade) and having him on the team. I could use another solid LW'er.
Up for any advice. And if your interested in joining an EHM league I want to run (using the most updated rosters) leave a comment on this post or here.
By